Anglesey rescued boatmen then make hoax lifeboat call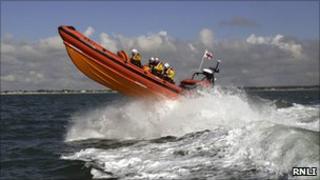 Rescuers say the actions of two boatmen who made a hoax 999 call to coastguards are "regrettable" after they were saved for real just 48 hours before.
The Beaumaris RNLI boat pulled the pair to safety on Monday after they lost their oars and were left drifting in Friars Bay, Anglesey.
But the two men, from Tyneside, then made a hoax call on Wednesday claiming they were adrift again.
One of the men later received a fixed penalty £80 fine from police.
Coastguards at Holyhead said the initial rescue on Monday was a legitimate 999 call from the two men, understood to be in their 20s.
The Beaumaris lifeboat was called out to tow them to safety at 03.00 BST after they lost their oars while in a rowing boat.
But at 02.00 BST on Wednesday, coastguards received another 999 call.
"The details were almost identical. Two men adrift in a rowing boat," said Holyhead coastguard watch manager Mark Craddock.
"However, we often get similar rescue details, so at first we treated it as a legitimate call."
Again the RNLI's lifeboat at Beaumaris was called out, along with volunteer coastguard staff conducting a shore search for the stranded boat.
Hoax suspicion
But when the coastguard watch team replayed the 999 call, they realised the latest incident was too much of a coincidence.
"We realised that it was the same details, the same number of people, and it was the same voice. They had a very strong Geordie accent," explained Mr Craddock.
At the same time, a member of the volunteer coastguard team came across the two men on a green at Beaumaris, watching the hoax rescue attempt unfold.
He kept the pair talking, until the police arrived.
North Wales Police have confirmed that they spoke to the individuals, and one was given a fixed penalty fine for "the misuse of electronic equipment", understood to be a mobile phone.
"It is unfortunate, especially as the lads on the rescue are volunteers and are putting themselves in danger to do this," added the coastguard watch manager.
Volunteers
The RNLI also criticised the actions of the two men.
"Our crew would have been asleep at the time but on hearing their pager go off would have sprung into action and would have taken the matter of a boat with two people on board adrift very seriously indeed," said an RNLI spokesperson.
"They were out for over an hour conducting an intensive search and then stood down, but on returning to the station they have to wash the boat down and refuel it before they can think about catching up on their sleep and work in the morning.
"The RNLI is a charity that saves lives at sea, relying solely on voluntary donations to provide this service and volunteers to crew our lifeboats and man our lifeboat stations.
"It is therefore extremely regrettable that this turned out to be a hoax call and very sad indeed that some members of the public think this is fun."