Opposition as South Sebastopol homes plan updated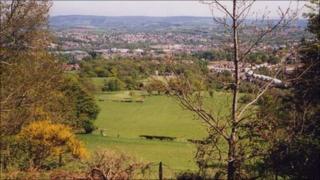 Campaigners against updated plans for up to 1,200 homes on former farmland in Torfaen say the development would spoil "a very beautiful area".
The South Sebastopol plan, first mooted over 10 years ago, faces opposition, with concern over traffic, wildlife and the loss of green space.
But developers say it would help meet the need for new housing in the area.
The project includes a "village" area, transport links, sport pitches and play areas.
Residents opposing the development, which would be either side of the Monmouthshire and Brecon canal, say it will ruin an area "rich in wildlife".
Carole Jacob, of Torfaen Friends of the Earth, said: "It's a very tranquil stretch of the canal with beautiful views enjoyed by all the residents here.
"Visitors can't believe that it could be built on.
"The traffic is going to be horrendous because of the nature of the site - it's clearly blocked in by the canal."
Developer Barratt has been working for more than a decade on the development, which is between Pontypool and Cwmbran, with consortium partners the assembly government and Taylor Wimpey.
Torfaen council agreed to grant planning permission in 2004, subject to a legal agreement, but the authority said the agreement was not completed for a "significant length of time".
The application was therefore not determined. An updated and amended planning application has now been submitted.
Huw Llewellyn, technical director of Barratt South Wales, said: "The development will be contributing significantly to the requirements for new housing within the county and local area.
"The scheme has been developed following extensive consultation with the council and stakeholders and a number of public consultations prior to the original and recent planning submissions.
"Extensive ecological surveys have been undertaken to assess and mitigate the impact of the development."
He added the scheme would include road improvements and "significant contributions to new and refurbished education facilities".
Resident Doreen Ricketts, of Sebastopol, said: "The trouble is they're taking all the green [land] - there won't be any green at all from Sebastopol down. I don't think they should do it."
"I think there will be a lot of trouble with the traffic," she added.
However, Bryan Hallows, also of Sebastopol, said the development could generate customers for businesses in the area.
"I think the more the merrier," he said. "The more housing we get, the less homelessness and the more people can move up the scale.
"The place needs more trade - Griffithstown and Sebastopol are quite dead."
The South Sebastopol plans can be viewed on the Torfaen council website.