Fire chief's plea over Welsh Easter holiday grass arson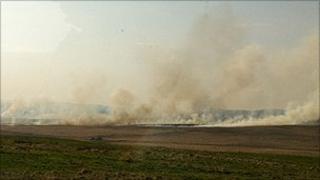 Fire service chiefs say they are determined to break the annual cycle of deliberate grass and woodland fires every Easter holiday in Wales.
It follows a large mountain fire between Rhondda Cynon Taf and the Brecon Beacons on Thursday, which it is thought was started deliberately.
Four fire crews were dealing with a large gorse fire at Gellilydan in Gwynedd on Friday afternoon.
In south Wales, crews tackled a nine-hectare grass fire on Rhigos Mountain.
Fire crews were being hampered by strong winds.
The incident near Blaenau Ffestiniog involved four seats of fire in a 700m long area.
Four fire crews were called out at 1630 BST.
In Thursday's incident, a blaze over more than 500-hectares of heathland near Storey Arms, needed a helicopter, fire engines, all-terrain vehicles and a water bowser to bring it under control.
The fire services say they endanger staff, divert resources, threaten property and harm tourism and wildlife.
Martin Henderson, head of risk reduction at the South Wales Fire and Rescue Service, said people had become used to accepting large numbers of deliberate grass fire at this time of year.
"It's got to stop and we need public support to stop it," he said.
"It's anti-social behaviour and if it was some other form of anti-social behaviour there would be a public outcry about it."
The South Wales service has extended a scheme called Project Bernie which it says reduced the number of deliberate fire in Rhondda Cynon Taff last Easter by over 40 percent.
It is now also being run in Merthyr Tydfil, Caerphilly and Bridgend and focuses on three main areas.
Better enforcement through high visibility police patrols, increased community awareness with the public urged to report a fire as soon as they are aware of it and activities for 13 to 17 year olds to gain their support.
Mr Henderson said: "It's a long-term thing and as much as I may wish for it we won't see an overnight success.
"We are trying to win hearts and minds - getting the youngsters to be proud of the area that they live and play in."