John Cooper trial: Contaminaton of evidence 'possible'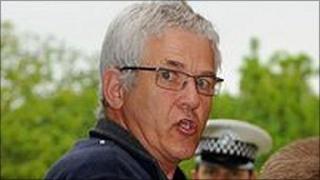 Shorts found in the house of a man accused of two 1980s double murders could have been contaminated by other police evidence, a jury has heard.
The jury in the trial of John Cooper at Swansea Crown Court was previously told blood on the shorts matched a victim.
But a forensic expert called by the defence said cross-contamination with other evidence was a possibility.
Mr Cooper, of Letterston, denies murdering Richard and Helen Thomas, and Peter and Gwenda Dixon.
The 66-year-old also denies separate charges of rape, indecent assault and five attempted robberies in Pembrokeshire.
The court heard that Mr Cooper was found guilty of a number of burglaries and a robbery in 1998 and jailed.
During the investigation, police took a large number of items from his home and the surrounding fields.
The items were kept in police store until some years later when many were sent for more advanced DNA testing as part of a review into the double murders in Pembrokeshire, in 1985 and 1989.
A pair of shorts which police had taken from Mr Cooper's bedroom in 1998 was found to contain minute blood stains and a tiny blood flake which matched the DNA profile of Mr Dixon and his daughter Julie.
'Red herrings'
Defence barrister Mark Evans QC has argued that other evidence, such as that taken from the Dixons' murder scene in 1989, could have contaminated the evidence taken from Mr Cooper's home nine years later.
He described certain occasions where he maintained that exhibits were incorrectly handled or stored, either by Dyfed-Powys Police, or by forensic scientists at a laboratory in Chepstow.
Mr Evans called his own forensic scientist on Thursday, Nigel Hodge, who told the court that cross-contamination was a possibility in his view.
Mr Hodge said he had found in experiments that if a dried blood flake from another source was deposited on an item, and subsequently "rehydrated", it could leave a blood stain on the new item.
But prosecution barrister Gerard Elias QC told the jury there were a number of "red herrings" in the defence's argument.
Blood flake
When cross-examined, Mr Hodge conceded that the conditions needed for such a contamination to take place would need to be very specific.
He also conceded the shorts in question had never been to Chepstow, that there was no proof the shorts had ever come into contact with exhibits from the Dixons' murder scene, and he could not eliminate the possibility the stains on the shorts were original blood stains.
As for the stains which were found to match Julie Dixon's DNA, he agreed there was "no way" that those stains could have been produced by a blood flake, and therefore "no way that could've been as a result of cross-contamination".
The case continues.