North Wales Police say 'safe' motorcyclists are welcome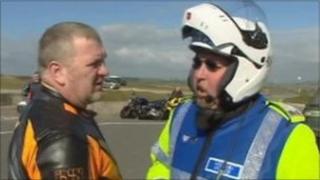 Police are signalling a change in the way they deal with the thousands of motorcyclists who descend on north Wales roads across the holidays.
Officers say they are moving from the controversial policy of actively stopping and talking to as many bikers as possible.
Instead, North Wales Police says it will be targetting "known offenders" over the bank holiday weekend.
Last year, 75 bikers were either killed or injured on north Wales roads.
"It's fair to say that in the past we have cracked down on motorcyclists in north Wales," said Insp Alan Hughes.
It was a policy actively promoted by the former chief constable, Richard Brunstrom, and led to protests from motorcycle groups.
But police defended their operations, pointing to 20 motorcycling deaths alone in 2007 and 2008.
"Unfortunately, that strategy went on, and we also dealt with normal law-abiding motorcyclists and stopped them as they were coming through north Wales," accepted Insp Hughes.
"So, now there is a change in our policy. If you are coming into north Wales to enjoy the lovely roads that we have, and you drive sensibly and your bike is fully lawful, you will not be stopped."
The inspector said motorcyclists should still expect to see marked patrol cars and police bikes in popular areas, and road safety messages would be reinforced at known biker stops.
"I am sure that officers will be speaking to you when you stop for a cup of tea or a meal in the various cafes," said Insp Hughes.
However, North Wales Police said this was no blank cheque for motorcyclists to disregard road rules and laws.
Insp Hughes spelled out a warning: "If you come here with the intention to ride selfishly, because there is like in any population, a selfish minority who ride with no regard for the safety of themselves or other road users, then we will be looking for those offences, detecting them and taking them to court."
He said unmarked patrol cars and motorbikes would be used to target those riding poorly, especially those travelling at excessive speed.