Lloyds Quarry near Nannerch wins Wildlife Trust award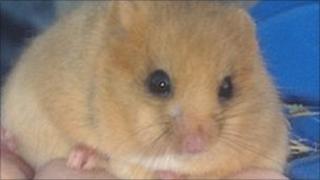 A sand and gravel quarry in Flintshire that is home to a number of European protected species, including dormice, has won a wildlife award.
The owners of Lloyds Quarry in Fron Haul, near Nannerch, have been recognised by the Wildlife Trust.
The business is the first in Wales to be awarded its biodiversity benchmark certificate.
The trust said site owners Marshalls ensured its quarrying activities did not harm the wildlife.
The company has worked with the North Wales Wildlife Trust (NWWT) to earn the award.
It said staff were encouraged to complete wildlife records at the quarry and to think about the environment.
Quarry manager John Bonar said: "We really appreciate wildlife at our site and we want to make sure we limit any harm to the local environment.
"Last summer I noticed that there were sand martins in one of the areas we were about to stock pile.
"We called a halt to the works until the September to allow the young to fledge and leave."
Kate Gibbs, chair of NWWT, said 34 sites managed by 14 organisations in the UK had been awarded the certificate but Lloyds Quarry was the first in Wales.
"Wildlife is important to us all and often industry is associated with the negatives when it comes to wildlife.
"We are delighted that Marshalls has shown how businesses and wildlife can work well together."