Tribute to 'fantastic father' in M4 crash near Bridgend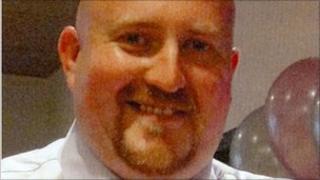 The wife of a vehicle recovery driver killed as he worked on a broken-down van on the M4 has described him as a "devoted husband" and "a fantastic father".
Richard Cox, 38, from Penarth, died in a collision with a tanker on the westbound carriageway near Bridgend.
The father-of-two was working on a camper van when the incident happened shortly before 1930 BST on Monday.
His wife Louisa said he was a "wonderful, son, brother and grandson."
South Wales Police said Mr Cox was attending a breakdown on the hard shoulder of the M4 between junction 35 Pencoed and junction 36 Sarn, near Bridgend.
Police said he died following a collision involving a white Fiat camper van, the red and grey Volvo articulated tanker vehicle and Mr Cox's white, green and red Isuzu recovery vehicle.
The tanker driver was taken to hospital in Bridgend. The driver and a passenger in the camper van on were not injured.
Mr Cox lived in Penarth with his wife Louisa, three-year-old daughter Caitlin, and 15-year-old stepson Dean.
She said: "Rich was a devoted husband to me and a fantastic father to Dean and Caitlin.
"He was a wonderful son, brother and grandson. His death will leave a void in the lives of all who knew him."
Cardiff-based Dragon Rescue chairman Steve Powell said staff had been left stunned by Mr Cox's death.
Paying tribute, he said: "He was a lovely guy, full of life - one of our top boys.
"It's tragic. We're a very close team. All our boys are highly trained, but if you stand on the side of a motorway you realise it's a dangerous place."
Mr Powell said they were unclear of the circumstances of the crash.
"All we know is he was doing a text book recovery. He got the passengers safe."
He added Mr Cox's death was the first in the firm's 40-year history.
Collision investigation
Police said the M4 was closed for about five hours for a forensic collision investigation, initial investigations and the recovery of the vehicles.
A police spokesperson added: "It would have probably been fairly busy because people were returning home after the long weekend."
South Wales Police are appealing for witnesses to contact the roads policing unit on 101 or the charity Crimestoppers on 0800 555 111.