William and Kate share royal wedding with Welsh couples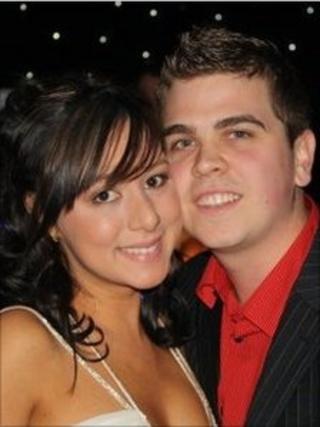 While millions watch Prince William and Kate Middleton marry at Westminster Abbey, they were not the only couple celebrating a big day.
Those couples in Wales booked to marry on Friday were worried the royals might overshadow their own happy occasion.
But for some brides-to-be, it seems all the royal excitement only added to their celebrations.
One, Rachel Heath, like Kate Middleton, has waited eight years to walk down the aisle.
Rachel, 31, and her fiance Stephen Jones, 29, from Maindee, married at St Michaels Church, Michaelston-y-Fedw, and celebrated with a reception at Parc Golf Club, Coed Kernew.
Their two-year-old son Lewis walked his mother down the aisle.
"Initially I was a bit upset when I found out we'd booked the same day as the royal wedding - I was not impressed," said Rachel, who works at Newport store TJ Hughes.
She said the excitement about the royal wedding mader here more excited about her own.
Natasha Powell and Daniel Whittaker married at St Mary's Catholic Church in Newport at noon, followed by a reception at the Celtic Manor, where they both work.
Assistant restaurant manager Daniel, 24, met waitress Natasha, 25, when they joined the hotel six years ago.
Daniel said the wedding was originally scheduled for March, but had to be postponed in time for one of his ushers to return from serving in Afghanistan.
"My mate is a soldier and he was due to come home from Afghanistan in late March, so I wanted to wait until he was back so he could be our usher," said Daniel.
He said they planned to show the royal wedding on a big screen during their evening party.
Natasha said: "At least people will always remember it."
Michael Davey and Debra Kahn had their wedding date booked for more than a year before the world became interested in the royal couple's big day.
"They pinched our date, we did not pinch theirs," said Mr Davey, a university security officer in Cardiff.
But the bank holiday due to the royal wedding had an extra benefit.
Mr Davey said people who had said they could not make the date were able to come because they had an extra day off work.
Like the royals, they are marrying in a religious sitting, but rather than Westminster Abbey in front of the world's cameras, they were at St David's Church in Ely before friends and family.
It was booked long before William and Kate announced their engagement.
Debra, 49, said she was "couldn't believe it" when Michael rang her with the news that their wedding was to be on the same day as the royals.
Page boy
The Cardiff couple started their wedding plans in January last year after Michael proposed in August 2009 while they were on holiday in Cornwall.
They first knew each other 25 years ago but rekindled their relationship about five years ago.
At the church ceremony, Debra's grandson, Callum, 10, was a page boy and her niece, Molly, eight, a page girl.