Young farmer calls for dairy partnerships to save farms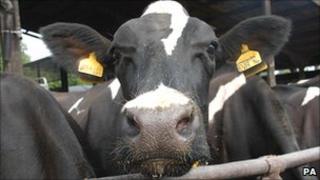 Retiring dairy farmers should consider partnerships with younger people to avoid farms being lost, says a leading young farmer.
Pembrokeshire farmer Roger Lewis says too many dairy farms are disappearing when they could be contracted out instead.
Mr Lewis, chair of NFU Cymru's Next Generation Dairy Board, said it could secure the industry's future.
A FUW official said it was a "brilliant idea" but needed funding.
Anglesey farmer Eifion Huws, 64, said a figure which showed nine dairy farmers were leaving the UK industry every week was a common trend too in Wales.
Mr Huws, chairman of Farmers' Union of Wales (FUW) milk committee, claimed more than 200 Welsh dairy farms have left the industry since 2006.
However, Mr Lewis, 36, an award-winning young farmer, said he believes decline in the industry could be reversed, with some targeted efforts.
He works with his parents in Cosheston, producing 2.2m litres of milk annually from a herd of 225 Holstein cattle.
"There are opportunities out there. We see, slowly, the increase of share farming or contract farming and in other parts of the world it is very common.
"There are families looking at retiring. Perhaps they would like to live in their own home but have the farm farmed by somebody else? That's probably where the most potential is for young people to come in to the industry."
He said finding capital for housing, livestock and milking parlours was often a problem for young farmers but their older counterparts could help by renting out cattle or buildings.
"If there are farmers out there who would like to take more of a back seat, I know there are young people out there champing at the bit to come in on some sort of contract or share agreement to make that farm work."
Mr Huws, vice president of the FUW, runs a dairy farm at Bodedern on Anglesey.
A similar scheme had paid dividends in Ireland but would require more funding from the Welsh Assembly Government, he said, to get off the ground in Wales.
"Dairy farming is a hard and tiring job and the money isn't there for the youngsters. Often if they go and work for somebody else in a different type of farming they could earn three-four times the money.
"I'm 65 in November and my son, Iwan, is 38 and I let him take the vast majority of decisions on the farm now but if he wasn't around I would have had to rent it out.
"Something does need to be done as we have already lost a generation of young dairy farmers because the money hasn't been put back into the industry.
But Mr Huws also added a warning.
"Renting out cows to a young farmer is a very good idea in principle but somebody could come along with all the enthusiasm in the world and if it doesn't get the right return he can walk away and the problem would still come back to the original owner.
"It's a brilliant idea, but it does have pitfalls."