Dyfi osprey produces first egg for 400 years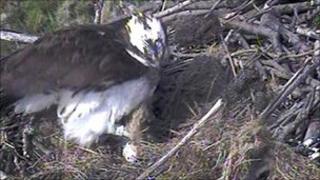 A wildlife trust in Powys is celebrating after the arrival of a special egg over Easter.
Montgomeryshire Wildlife Trust said a female osprey at its nature reserve near Machynlleth had laid an egg.
It is seen as a major breakthrough for its Dyfi Osprey Project, which claims that ospreys were last recorded breeding in the area in 1604.
The birds' nest is built on top of a telegraph pole, and two years ago they attracted 25,000 visitors.
A male osprey first set up home on the 50ft (15.2m) tall man-made nest at the Cors Dyfi reserve in 2009, raising hopes that Wales could soon have another breeding pair to go with the birds who have raised chicks in the Glaslyn Valley near Porthmadog.
Until now romance has failed to blossom, butwildlife experts are hopeful that ospreys Monty and Nora will produce young in Powys this year.
Emyr Evans of the Dyfi Osprey Project said: "It was in 1604 that ospreys were last recorded breeding on the Dyfi and now we are witnessing history in the making.
"The osprey is Wales' rarest bird of prey and today we are delighted to be able to say that Wales has two breeding pairs, probably the first time this has happened in several centuries."
Mr Evans said Monty returned from his African wintering grounds on 6 April, and just three days later managed to attract a female, Nora.
Nora had been ringed as a chick so Mr Evans focused nest cameras on her ring and read the numbers off it, so he could tell where she was from.
She was born at Leicester and Rutland Wildlife Trust in 2008. Her father was born in 1997, is still breeding at Rutland Water, and has fathered 23 chicks to date, Mr Evans said.
He added: "I'm absolutely delighted about ospreys breeding on the Dyfi once again. We run our project as a community initiative and the look on the volunteers and visitors' faces when they witnessed our female laying her first ever egg was priceless."