Prince William wing commander's royal wedding day role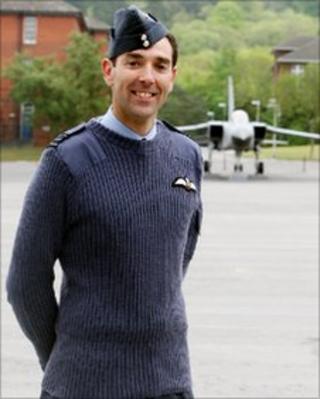 The man who taught Prince William to fly has a ceremonial role at the royal wedding as well as an invitation to his former student's big day.
Wing Commander Kevin Marsh runs the training school at RAF Valley in Anglesey, where the prince is based.
His ground control work on Friday includes being a path liner on the route to Westminster Abbey.
And he will be part of a 24-strong party from the RAF, Army, and Navy lining the steps as the couple emerge.
Wg Cdr Marsh, a jet pilot with more than 20 years' experience of flying Jaguar ground attack aircraft, was picked to oversee the RAF training when the prince began working for his "wings" in 2008.
He said the wedding invitation "an amazing honour".
"I've been lucky enough to know the prince for about three to four years but I never thought that I'd receive one of those golden tickets, if you like, to the wedding," he said.
He added: "I'm sure he'll be very nervous.
"When he was flying, before any check rides or any tests, he would get quite nervous, but the way he did it he would quietly reflect and study.
"I'm sure he's there learning his lines right now but I have no doubt he'll be perfect on the day.
"He's remarkably down to earth, for someone who is a prince. Immediately you can get on with him, he's definitely one of the lads whenever he's with the military."
The wing commander's RAF role includes being one of the route-liners, spaced every few yards on the route between Buckingham Palace and Westminster Abbey.
But he is not the only RAF officer who works alongside the prince to receive an invitation.
All 27 members of C Flight 22 on Anglesey, where the William works as a search and rescue helicopter pilot, have been invited to the wedding, with their partners.
A total of 1,353 military personal are to play a part in the wedding.
The ceremonials include a flypast of three aircraft from the Battle of Britain Memorial Flight - a Lancaster, a Spitfire and a Hurricane.
This will be followed by two Typhoons and two Tornado GR4s in a box formation.