Royal wedding: Llandudno jeweller reveals Kate's ring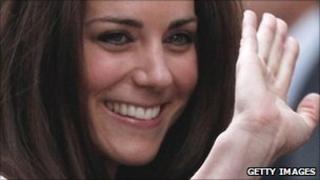 When Prince William places a wedding band on Kate Middleton's finger, it will be one made by family jewellers from Wales.
Wartski, which was founded in Bangor, has fashioned the ring from a nugget of Welsh gold.
The company also made wedding rings for the Prince of Wales and the Duchess of Cornwall for their wedding in 2005.
A spokesman said: "It's a great honour for us. We are very thrilled to be part of it."
The ring is made from a piece of Welsh gold given to Prince William by the Queen shortly after the engagement was announced.
Until it is presented the ring will be in best man Prince Harry's care.
Mine
Prince William has chosen not to wear a ring following his marriage.
Wartski was founded in 1865 in Bangor, later moving to Llandudno.
The royal warrant holder also supplied the engagement and wedding rings to Queen Elizabeth's grandson Viscount Linley when he married Serena Stanhope in 1993.
The Welsh gold royal tradition dates back 88 years to the marriage of Prince William's great-grandparents, Elizabeth Bowes Lyon and the future George Vi.
In 1923, the royal ring was fashioned from a gift of Clogau gold with enough left over for the weddings of The Queen in 1947 as well as those of the late Princess Margaret, the Princess Royal and the 1981 marriage of Prince Charles and Diana, Princess of Wales.
The gold came from the Clogau St David's mine at Bontddu, Gwynedd.
There is now only a minute sliver - one gramme - of the original nugget left.