Cardiff vicar Dean Atkins's open letter to lead thieves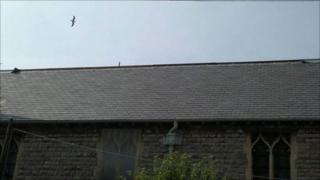 A vicar has written an open letter to "selfish and unthinking" thieves who stole lead from his church roof.
Father Dean Atkins posted it via his blog and Twitter after the theft at St Saviours in Splott, Cardiff.
He wrote: "Stealing is wrong and far from causing no repercussions it causes much, much damage, more that you will care to imagine".
It is the second time the church has been the victim of lead thieves. Three weeks ago lead was taken from a porch.
On that occasion, they left some of it behind, leading to speculation that they had been disturbed. But no-one spotted them when they returned, probably last Thursday night.
As the nation woke up in anticipation of the royal wedding, Father Atkins, 40, was coming to terms with an another criminal attack on his Grade II listed building.
He said: "I don't harbour any bad feelings against them. I just think it's a rather selfish and unthinking thing to do.
"Whoever steals from anyone does not realise the repercussions. Whoever somebody steals from it's a despicable thing - it makes no difference that it's a church."
In his posting, he told the thieves: "Imagine a roof with no lead and therefore open to the elements.
Insurance claim
"And imagine it rained, and imagine that the rain poured into the church below, damaging the rafters and floor, ruining the electrics, running into the pipe organ, damaging furniture, memorials and other artefacts, seeping into the walls.
"Imagine the wedding that would have to be moved to another church and all the inconvenience that would cause, along with the funerals and baptisms.
"Imagine the thousands and thousands of pounds worth of damage that you will have caused and created by ripping the roof of its lead under cover of darkness."
Father Atkins told BBC Wales the roof was still unprotected while the insurance claim went through. He hoped the repair would be with a lead alternative to deter further attacks.
He said: "Unless we get it fixed quite soon, then goodness knows what kind of damage it could create."