Vote 2011 analysis: Labour's uphill fight for majority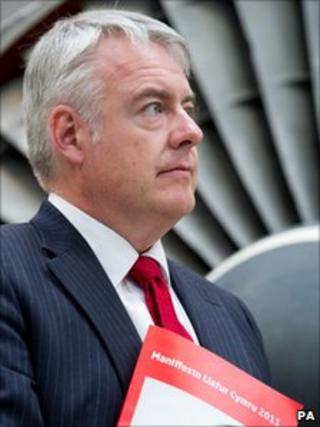 Opening his campaign for the Welsh assembly election, First Minister Carwyn Jones declared Labour's aim was to win a "comfortable working majority" in the 60-seat chamber. How realistic is this?
Labour has long been Wales' dominant political party, but that has eroded in recent years.
In the 2010 UK general election, Labour won only 36.2% of the vote in Wales: its worst performance since 1918, worse even than it did under Michael Foot in 1983.
But since the formation of the Conservative-Liberal Democrat coalition in London, Welsh Labour has been resurgent.
Opinion polls currently suggest a big swing to Labour since the last assembly election. Labour in Wales also benefits from the absence of a single opponent as strong as the SNP in Scotland.
Given that Labour won 26 assembly seats in a bad year in 2007, how hard can it be to make the handful of gains needed for a majority now?
Well, perhaps more difficult than one might expect.
The 2007 assembly election produced an odd - almost freakish - result. Labour's vote fell substantially: much more than in the Scottish Parliament election.
But helped by the absence of a single clear challenger, Labour avoided major seat losses, just holding on in many constituencies. Of the 12 most marginal constituencies in the 2007 Assembly election, 10 were won by Labour.
But this means that one effect of any rise in Labour support in 2011 will simply be to turn seats that became marginal in 2007 back into safe seats.
To achieve its majority, what must Labour do?
First, they must retain every constituency seats won last time. This means defeating the Conservatives in Vale of Glamorgan, which the Tories came within 83 votes of capturing in 2007 and won by more than 4,000 votes in the general election.
Labour must also repel the strong challenge of its former Welsh leader Ron Davies, now standing for Plaid Cymru in Caerphilly.
Mathematically plausible
Second, Labour must regain Blaenau Gwent from the independents. Given Labour's overwhelming victory there in last year's general election, this ought to be manageable.
Third, in the Mid and West Wales region, Labour needs to capture some constituency seats (the ultra-marginal Carmarthen West and South Pembrokeshire, and maybe longer shots like Preseli Pembrokeshire, and Llanelli) while also securing a sufficiently strong regional vote that any Labour constituency gains are not just negated by losing list seats.
A net gain of one seat for Labour in this region seems likely; two seats will be distinctly harder.
Delivering all the above would give Labour 28 (or just possibly 29) seats. To reach a "comfortable working majority", they must then win additional constituencies in north Wales and the three south Wales regions.
Labour won no list seats in these regions in 2007, so any constituency gains here are pure gains.
Winning some Labour targets looks mathematically plausible: gaining Clwyd West requires a swing of just over 3%.
But a clear majority requires that Labour also wins seats like Cardiff North (which needs a swing of more than 7%) and Aberconwy (which would take nearly a 9% swing), or pull off even bigger shocks elsewhere.
Labour will almost certainly emerge from the election as still much the strongest party in Wales.
It seems likely to gain a significant rise in its vote share over the previous assembly election, and thus stem several years of falling Labour support in Wales.
But achieving a majority in the assembly, and thus reasserting its historic dominance in Wales, may be more difficult.