Land Registry survey shows sharp Wales house price drop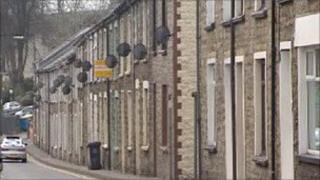 Wales has experienced a sharp fall in house prices, down 3.3% on the month and 7.2% year on year.
Latest figures from the Land Registry shows Wales suffered the biggest drop in prices compared with England.
In Blaenau Gwent, prices were down nearly 20% over the year.
On average, prices fell by 1.1% in March in England and Wales, the biggest drop since February 2009. Prices were 2.3% lower than a year ago.
One estate agent in Blaenau Gwent blamed a number of factors, adding that the area seemed to suffer more than others in Wales.
Jeanne Fry-Thomas, director with Bairstow Eves estate agents with offices in Brynmawr and Ebbw Vale, said a large number of repossessions had been coming on to the market and while, valued at competitive prices would have to be sold.
She also said home-owners serious about selling were dropping their prices to ensure a sale.
However, she added she was receiving calls from investors interested in buying property in the area because they were regarded as cheap.
The average price is £65,305 in Blaenau Gwent compared with £182,943 in Monmouthshire where prices went up 5.5% over the last year.
And the estate agent predicts when the market starts to move, homeowners in Blaenau Gwent will see a "decent jump" in prices, adding that her business has seen an improvement in sales in the first quarter of 2011 compared with 2010.
The Land Registry's figures come out a month later than those from high street lenders and are based on all property sales.
Figures from the Bank of England also show a big drop in mortgage lending for March.
Net lending, which takes account of the money homeowners have paid back, was 60% lower than in the previous month.