Vote 2011: Welsh Labour's options as AMs' work begins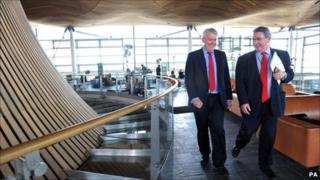 Newly-elected Welsh assembly members start work this week with the task of rubber-stamping a new first minister and presiding officer at the top of the agenda.
But as yet, there is no clear sign if Labour will try to govern alone or enter some form of agreement with another party.
Carwyn Jones should be confirmed as first minister by the end of the week.
But who will serve in his government is a question yet to be answered.
Labour strategists are keeping all avenues open: these include serving as a minority government, forming a formal coalition or an informal arrangement with another party.
The party's election campaign manager, Pontypridd MP Owen Smith, said all options were available, although he admitted a partnership with the Liberal Democrats might be "difficult".
"If they were to disavow Nick Clegg and renounce the right-wing policies that they are supporting in Westminster, we would be in a different situation," he told the BBC Politics Show.
He said Labour had worked well with Plaid Cymru during the previous coalition term but he said there were question marks over the party's direction.
On Monday, Leighton Andrews, the Rhondda AM, told BBC Radio Wales it was still early days for the formation of a new government.
'Relatively small institution'
Mr Andrews, who headed Labour's election campaign strategy, said: "The National Assembly is a relatively small institution and people know each other well. I'm sure there have been conversations over the weekend but I don't think at this stage I would expect anything to develop.
"The first minister made it clear on Friday he was willing to reach out to other parties but I would expect there to be a Labour-led government by the end of this week and I expect Carwyn Jones to be the first minister.
He said the Labour group would meet on Tuesday to discuss the options.
"There is no rush. There is a government at the present time."
Hywel Williams, Plaid Cymru MP for Arfon, hinted strongly that Plaid would consider working with Labour to form a government.
Mr Williams said: "If I was Carwyn Jones I would be looking out, and looking at us, and looking at what we have to offer.
"I want to see this country being governed properly and if that takes us getting in with Labour well that's fine."
Peter Black, Liberal Democrat AM for South Wales West, kept his party's options open for a deal with Labour or any other party.
He told BBC Radio Wales: "If they want to come and talk to us we're happy to talk to them and listen. In fact we're happy to talk to any party about what's in the best interests of Wales.
"Clearly, if Carwyn decides that he needs out help and he needs to work with the Liberal Democrats to form a stable government for Wales and to deliver on what's needed to be done for Wales in terms of the economy, education, the health service, then the Liberal Democrats will be there to talk to him.
Thinking time
"And obviously we will want to put our two pennyworth in and make sure some of our policies are adopted as part of that."
The first task for AMs will be to appoint a presiding officer.
Lord Dafydd Elis-Thomas is the front-runner for the position again after Conservative David Melding ruled himself out.
After losing four seats, the weekend will have given Plaid Cymru leader Ieuan Wyn Jones some thinking time over his future.
On Wednesday Conservatives will start the process of appointing a permanent leadership successor to Nick Bourne, who lost his seat.
The party has chosen Preseli Pembrokeshire AM Paul Davies as interim leader, but he has said he will not seek the position full-time.