Murder accused Yvonne Freaney's child care 'nightmare'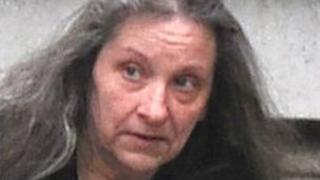 A woman who admits killing her autistic son has raised three older children with disabilities, a court has heard.
Yvonne Freaney, 49, admits the manslaughter of her son Glen, 11, who was found strangled at a hotel near Cardiff Airport, but denies murder.
Mrs Freaney, from Penarth, Vale of Glamorgan, was living in a "nightmare" of care, Cardiff Crown Court heard.
The other children have ADHD, dyspraxia and Asperger's Syndrome respectively. The case continues.
The jury has heard that that Glen was severely autistic, still wore nappies and needed help dressing, washing and feeding.
Mrs Freaney was solo carer for her four children when her former RAF husband Richard worked away from home, the court has heard.
The other children were referred to in court as Child One, who is aged 22, Child Two, who is 20, and Child Three, who is 15.
'Detrimental to health'
John Charles Rees QC, defending, said: "From the outside looking in, this is a nightmare."
The 22-year-old was now at university studying law and the other children were said to be doing well, with the 15-year-old studying for his GCSEs, Mr Rees said.
The court heard that Glen would sleep for only four or five hours a night and could not communicate.
Mrs Freaney had slept downstairs with her son for four or five years to allow the rest of the family to sleep, the court heard.
Mr Rees said: "It was very detrimental to her health and wellbeing and that she has shown her selflessness both in relation to Glen and other members of her family.
A paediatrician who had worked with the family over a number of years, Dr Nia John, accepted it was not a "sustainable situation" for the defendant.
Mr Rees said: "Mrs Freaney doesn't look 49. She looks considerably older. She doesn't wear well under the strain."
"She doesn't look like a lady who is putting herself first or looking after herself."
Dr John, who is now a consultant, told the court she did not know that the defendant also cared for her own mother, who had Alzheimer's, from 2006 until she died in October 2008.
The court has heard that police were called several times to the family home after alleged incidents of domestic violence and that the Freaneys' marriage was "filled with problems".
Social services became involved with the family after a police officer described their home as "uninhabitable."
Mr Rees asked Dr John if she would have been concerned about Mrs Freaney's mental state and her ability to look after the children if she had known about the condition of the house.
Dr John replied: "Yes, I would."
Mr Rees asked: "What she did to Glen was wholly out of character for the Yvonne Freaney that you knew?"
Dr John replied: "It was never anything that we could foresee ever happening."
'Warm relationship'
She told the jury that no concerns had been raised by other professionals dealing with the Freaneys.
Dr John added: "She was good at putting a good face on things. She was very proud of Glen and a very proud lady."
The jury also heard from Kerry Hartland, a teacher at Ashgrove School in Penarth, where Glen attended.
Mrs Hartland described Glen as a happy child but one who was difficult to manage and always needed one-to-one attention.
She said: "He seemed to have a close, warm relationship [with his mother].
"She was always helpful and very grateful for everything we were doing and always concerned about his welfare.
"She was always very happy when we showed her things he had done. She always seemed very proud of him."
The trial continues.