Cardiff rail water tower mural plan sidelined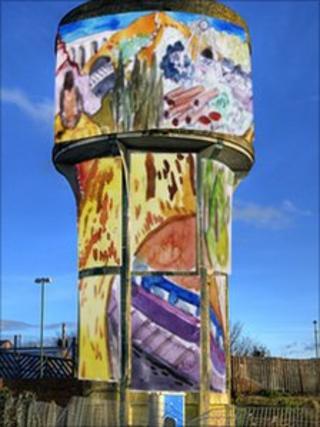 The future of a rundown Cardiff rail landmark is unclear after one man's bid to brighten it up hit the buffers.
Generations of rail passengers know the 15m (49ft) water tower at Cardiff Central station for the giant daffodil painted on it during the 1970s.
Artist Dan Llywelyn Hall's plans for an abstract mural on the listed structure have been thrown out by planners.
The council wants Network Rail to hold a competition to smarten up the tower but the firm said it had its own plans.
Mr Hall, who says he has "invested years" in the project to upgrade the water tower, said he fears he is being sidelined despite being a "catalyst" for interest in the concrete building.
Cardiff councillors agreed with their officers that Mr Hall's proposals did not fit the heritage of the tower, which was built in 1932-34 and was Grade II listed in 1998.
They said his mural, to be painted in bright primary colours, was too "bitty", not coherent in its design and of "insufficient quality for a piece of public art on a prominent local landmark".
A report before them on Wednesday said: "Considering that the structure is a listed landmark located prominently in a railway station environment in the capital of Wales, and for many is one of the first things they see on arrival in Cardiff, the proposals need to be rethought."
Barry-born Mr Hall, 30, who studied at University of Wales Institute, Cardiff, and works from Harlow, Essex, as well as Cardiff, said he is mystified at the criticism.
He claims it was Network Rail who suggested he submitted the planning application, only to then object to his proposal.
He said: "It's a great shame that this important structure is being left to crumble. It's in a state of degradation.
"I'm open to working with Cardiff council and Network Rail but there is no-one there who is willing to discuss this with me.
"What I've done here is create a catalyst for this thing. I want to be part of the project, but I can't impose myself.
"I feel I've got enough credentials to justify myself doing it. I'm not an amateur."
Mr Hall said he has had support from two property developers in the area who have agreed to restore and maintain the water tower at no cost to the public purse.
A spokesperson for Network Rail said the firm was working on a plan for the water tower.
She said: "We appreciate the artist's enthusiasm and we are also very keen to spruce up this listed structure, which has a big part to play in the history of Cardiff's railway.
"A plan is now in place to restore the water tower to its former glory so that the originality of the heritage structure is preserved.
"A structural assessment is now underway and we are working towards completing the restoration of the water tower prior to the Olympics."