Abergavenny Asbo neighbour Dorothy Evans dies, aged 84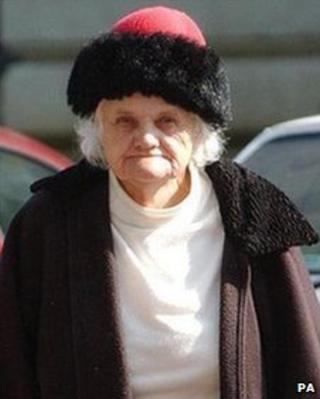 An 84-year-old woman given an Anti-social Behaviour Order (Asbo) for her treatment of her neighbours has died.
Dorothy Evans, of Abergavenny, Monmouthshire, made a series of court appearances, and in 2007 was jailed for six months after breaches of the order.
The judge said she made her neighbours' lives a misery but added that there was a good side to her nature.
A court ruled last October that she was too ill to stand trial over claims she had again breached Asbo orders.
In 2001, a judge at Cardiff Crown Court gave her a nine-month suspended prison sentence after she was found guilty of seven charges of breaching a restraining order.
Four years later, she was made the subject of an Asbo over her treatment of neighbours, becoming the oldest person in Wales to receive such an order.
She was jailed in 2007 after being convicted of harassment and six breaches of the Asbo. The trial heard that she had made her neighbours' lives "absolute hell".
However, the judge said he accepted there was also a "good and positive side" to her nature.
Her defence team at the time said she was capable of being a good neighbour, and there were people who had known her for a long time who were prepared to speak well of her.