Second Severn Crossing roadworks to delay motorists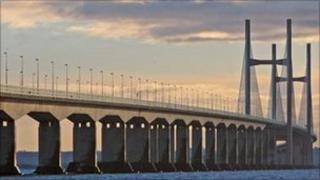 Motorists using the Second Severn Crossing face delays this summer because of major road surface works.
UK Transport Minister Mike Penning said the inside lane both eastbound and westbound was severely worn and would have to be completely replaced.
Work on the eastbound carriageway is expected to take place between 9 June and 14 July.
The westbound route will be resurfaced between 6 September and 11 October.
Mr Penning said he recognised the "obvious disruption" which would be caused to drivers by the work.
He said the UK government had considered but rejected the idea of closing the bridge, but the work will mean at least one lane will be open.
"There will be delays and I apologise for that but this is indication of the investment that has to be put into the bridge," Mr Penning said.
MPs are to be given more details of the works in a letter on Friday.