Alcohol Concern Cymru in drinking 'epidemic' claim row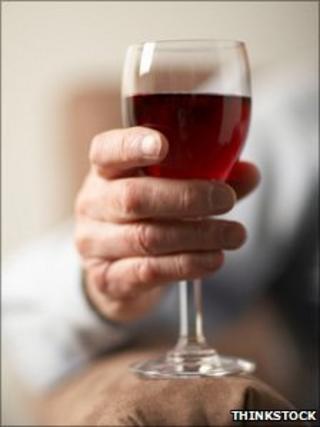 An alcohol charity claims there a "silent epidemic" of heavy drinking among elderly people in Wales.
But Alcohol Concern Cymru's (AAC) report quotes statistics that have been challenged by drinks industry body The Portman Group.
The group argued overall trends showed "a positive and continuing decline in the rates of excessive drinking".
Andrew Misell of AAC said there was anecdotal evidence from elderly support workers to back their claim.
AAC's briefing paper, Hidden harm? Alcohol and older people in Wales claims that although drinking tends to decline with age, this pattern may conceal serious alcohol-related problems among some older people.
Mr Misell, the charity's manager in Wales, said: "With the number of people over retirement age increasing, some researchers have even talked about a silent epidemic of older people's alcohol issues."
The paper compares figures from Welsh Government-commissioned Health Surveys of 2003/4 and 2009 as "evidence that the proportion of older people drinking more than the recommended amount is rising".
AAC said the number of over 65s who said they had drunk more than the recommended maximum in the previous week rose from 22% (men) and 7% (women) in 2003/4 to 34% (men) and 17% (women) in 2009.
However, BBC Wales understands that as a result of changes in methodology adopted by the compilers of the Welsh Health Survey in 2006 the two sets of statistics are not comparable.
Factors that changed included increases in size of wine glass, the increased alcoholic strength of wine and better estimates of the alcoholic strengths of beers, lagers and ciders.
When challenged on the paper's use of statistics Mr Misell said: "Those statistics were taken as an illustration. It's certainly the case that more work needs to be done in terms of finding out what exactly is the pattern of drinking among older people.
"The point of the paper is that it's a hidden problem. If you talk to people working with older people they will say there's quite a lot of anecdotal evidence to support the fact that alcohol is a problem."
Mr Misell said many who might benefit from support might not look like stereotypical drinkers. The fact that many older people drank at home contributed to the problem being hidden.
However, David Poley, chief executive of the Portman Group, said: "Just as we encourage people to drink responsibly, we would urge Alcohol Concern Cymru to use alcohol statistics responsibly.
"Overall trends shows a positive and continuing decline in the rates of excessive drinking. Trying to get people to adopt safer behaviour does not justify misrepresenting statistics in this way."
The AAC's report said a number of factors linked to age, like bereavement or changes to lifestyle after retirement, could lead to heavier drinking.
It also claimed that many younger adults are now adopting patterns of heavy drinking that they may well carry on into later life.
Loneliness
The report said healthcare professionals did not always recognise when older people's health problems were alcohol-related, or might not know how to raise the issue, leaving the problems untreated.
And the charity called for research into whether current unit guidance and screening methods for alcohol misuse was relevant to older people.
The briefing paper was supported by Rhian Pearce of Age Cymru who said: "About a third of older people with drinking problems develop them in later life and they may struggle to access help for this issue."
Ms Pearce called for health professionals to be trained to identify drinking problems in older people.
Wynford Ellis Owen of the Wales Council on Alcohol and Other Drugs also rejected claims that the problem of alcohol abuse among older people was being overstated.