Loan sharks in Wales lose £900,000 after court cases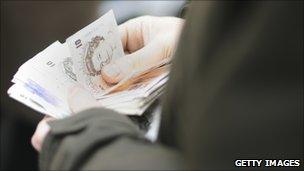 A team tackling illegal money lenders in Wales has wiped out £900,000 of debt owed to loan sharks by their victims so far, figures have revealed.
The Wales Illegal Money Lending Unit (IMLU) has identified 1,700 people as victims since it was set up in 2008, and has brought 32 people to trial.
It says loan sharks target vulnerable people like those on low incomes.
The unit is also warning that crooked lenders will find "easy pickings" as welfare benefits cuts begin to bite.
Funded by the UK government, but acting on behalf of Wales' 22 councils, the Cardiff-based IMLU has a mix of trading standards officers and former police detectives for its investigations.
The loan books seized from illegal lenders show they had lent £2.2m to 1,700 people, and £900,000 was outstanding before the team moved in.
That debt has now been written off.
Jail terms totalling 10 years and six months have been handed down to people it has prosecuted, while assets worth £3m have been seized.
Unit manager Steve Hay said loan sharks targeted communities with vulnerable people, such as families or single people on a low income, often reliant on welfare benefits.
He said: "Where there are vulnerable people, people will be getting themselves into debt. People will exhaust their avenues for legal debt and that will lead to more people borrowing from loan sharks.
"Some loan sharks have found it very easy to set up.
"You don't need a particular skill. You just need determination and to tap into the right communities and off you go.
"It's like counterfeiting goods, you can build it up from very little. We think it will be fairly easy pickings for some people."
Offenders include a retired tax inspector who lent money to families on Merthyr Tydfil's Gurnos estate. A raid found he had £79,000 in cash at his home.
The IMLU has seen its caseload almost double in the past two years from 25 to 46 cases.
Anyone who makes money from lending must have a consumer credit licence from the Office of Fair Trading.
The unit has uncovered many cases of people charged extortionate rates of interest, often with no paperwork..
Mr Hay said: "There is no contract. There is no set amount to pay back - it changes like the wind.
"They look at any opportunity to put on penalty payments. They just pluck a figure from the air and add it on."
Swansea, Merthyr Tydfil, the south Wales valleys, Flintshire and Wrexham are all problem areas,
As well as the threat and use of violence, loan shark criminality can extend to blackmail, money laundering, fraud and unlawful imprisonment or kidnap, said Mr Hay.
To contact the Wales Illegal Money Lending Unit, call 0300 123 3311.
Related Internet Links
The BBC is not responsible for the content of external sites.