Wrexham's Yale College honours Sir Frederick Rosier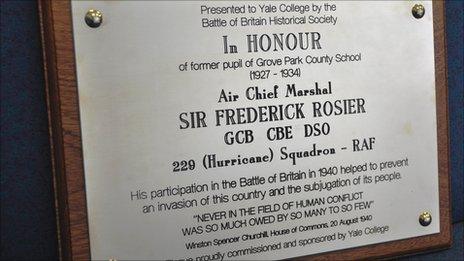 Seventy-one years after he was shot down in the battle for France, Yale College in Wrexham has honoured the life of one of its most extraordinary former pupils, Air Chief Marshal Sir Frederick Rosier.
In conjunction with the Battle of Britain Historical Society, Yale has unveiled a plaque on its Grove Park campus, where Sir Fred captained the rugby, tennis and swimming teams during the late 1920s and early 30s.
Starting his short commission service with the RAF aged 20 in 1935, this son of a Wrexham locomotive driver enjoyed his flying so much, that he requested to stay on after the end of his allotted time.
As a fighter pilot in World War II, he suffered serious facial burns in a crash-landing over France in May 1940.
But he was back at his desk inside a month, and cleared to fly in the final victorious days of the Battle of Britain in October of that year, downing two Messerschmitt 109s in his Hawker Hurricane.
His sons David and John Rosier were at the event.
David said: "We're greatly honoured that Grove Park want to recognise my father's life. His time at Grove Park was a huge influence on him.
"All the activities he took part in were something that he always talked about. He loved his sport here. He wasn't a great academic.
"He failed his school certificate first time, while my mother, who also was educated here at Grove Park, she didn't. She went on to St Mary's College, Bangor, and he joined the RAF in 1935.
"My father always looked back on his time at Grove Park as his formative years and he took that forward in his career."
Clive Millman, of the Battle of Britain Historical society, is heading a campaign to establish a plaque in the schools of each of the around 2,900 pilots who Churchill calle "The Few".
"As the Battle of Britain fades in the memory, and the number of those who can recall for themselves the bravery of The Few inevitably dwindles, It's becoming increasingly important to tell young people about the lives of people like Sir Fred."
Mr Millman added: "There can be nowhere more fitting to honour them than in their own schools. It's a reminder that these men were once ordinary children, forged into heroes by extraordinary circumstances."
"Heavens forbid that there's ever a time in the future when we'll again be forced to ask our young people to be so heroic on mass; but the feats of men like Sir Fred are there to prove what all of us are capable of if we are pushed - or push ourselves - hard enough."
After the Battle of Britain, Sir Fred was promoted to wing commander, and led his 229 Squadron in a decisive role during the North Africa campaign.
In November 1941 he won the Distinguished Service Order after landing his Hurricane in the desert in order to rescue a downed Australian pilot, a Sgt Burney.
Sir Fred managed to cram Sgt Burney into his one-man cockpit, but suffered a burst tyre when trying to take off again from the sand. It meant that the two men were forced to make a four day trek to safety, through enemy controlled territory in temperatures of over 40 degrees.
He remained with the RAF until 1973; his posts included aide de camp to The Queen and deputy commander of the NATO air forces in central Europe.
In his retirement he built a successful career as a military advisor to the British Aircraft Corporation.
Sir Fred is also fondly remembered by Wrexham's significant Polish community, as he fought for greater recognition of the role played in the defence of Britain by Polish airman.
His campaigning, both within and outside the RAF, eventuallly helped to secure the building of the Polish War Memorial in 1948; near to RAF Northolt from where Sir Fred commanded his 229 Squadron in the UK.
Wrexham historian and publisher Alistair Williams knew Sir Fred, and recognised the traits which made him such a special man.
"Sir Fred was such a humble man, and was so rooted in the area, that it's highly fitting to honour him in the place where he grew up."
"The thing you first noticed when you met Fred was his incredible charisma; he wasn't a loud man, and didn't talk excessively, but he could command the attention of a room, simply by being there."
"Being a publisher of military history, in his latter years I tried to persuade him to consider writing his memoirs, but the charm and equally the real tragedy of men like Fred was that they were too humble to think that other people would be interested in what they'd achieved during the War."
Sir Fred died in Llangollen in 1998, but perhaps Mr Williams's advice had some effect on him, as he had already begun work on an autobiography at the time of his death.
His wife and son, David Rosier, have completed the work on his behalf, from his personal documents and newspaper cuttings.
The finished work was officially launched at Friday's function, and will feature as part of an exhibition including his medals, photos of his time as a fighter pilot and a painting by Sir Fred.