Ticket sales up as stars descend on Hay Festival 2011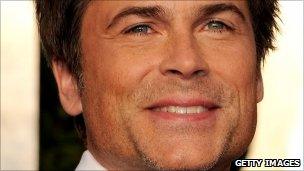 People are snapping up tickets for the 2011 Hay Festival despite the recession, with sales for the literary event up about 15%, say organisers.
Event director Peter Florence said keeping admission prices low had paid off and he was expecting 230,000 tickets to be sold.
Figures from the literary world, politics and show business are visiting the Powys books town.
Hollywood stars Ralph Fiennes and Rob Lowe are among the headliners.
The line-up also includes the Archbishop of Canterbury, Rowan Williams, who will talk on Shakespeare.
One of highlights of the first day is a tribute concert for the former Brecon and Radnorshire MP Lord Livsey, who died last year.
He served as a festival vice-president for 20 years. He was also a member of Talgarth Male Choir, which will perform with two other choirs at the concert.
Tickets for many of the events at Hay this year are £5.
Mr Florence said: "It's (the festival) slightly bigger this year and we wanted to keep the prices low because everybody's going through a hard time.
"It seems to have worked because the numbers (of ticket sales) are up quite considerably, about 15% on last year, and we're expecting to sell 230,000 tickets over the course of the festival.
"The response has been absolutely phenomenal."
Mr Florence added that he expected Twitter would make a big difference this year.
"Twitter didn't really exist (here) last year and everybody's got a smart or android phone now," he explained.
"The way people come to the festival will change because of that and people will want to comment. Following it on Twitter seems an obvious thing to do."
The town of Hay-on-Wye and the festival have grown in size and stature since an invitation was extended to "a few like-minded friends" to gather for a weekend of literary relaxation in 1988.
Since then it has attracted leading writers, politicians and musicians. In 2001, ex-US President Bill Clinton famously called it "the Woodstock of the mind".
As well as The English Patient actor Ralph Fiennes, who will speak about Shakespeare's Coriolanus, and Brat Pack and West Wing actor Rob Lowe, other headline guests include Afro Celt Sound System in concert, Sarah Brown, the wife of former Prime Minister Gordon Brown, and Egyptian presidential candidate, Nobel Peace Laureate and weapons inspector Mohamed El Baradei.
Howard Jacobson will also speak about his Booker prize winning novel The Finkler Question, and there will be comedy from Paul Merton's Impro Chums, Dara O'Briain, Jo Brand, Sue Perkins and Sandi Toksvig.
The BBC Radio 2 breakfast show host Chris Evans will broadcast from Hay on 3 June.
In a competition called 500 words, children aged 13 and under have been asked to write short stories.
The finalists will have their stories read out live on Evans's breakfast show at Hay.
Other guests include film-maker John Waters, BBC Gardeners' World host Monty Don, Nobel Laureate V.S. Naipaul, former foreign secretary David Miliband, X Files actor Gillian Anderson, Cerys Matthews in concert, Philip Pullman on Jesus and Oscar-winning actress Vanessa Redgrave on Palestine.
Related Internet Links
The BBC is not responsible for the content of external sites.