Gavin and Stacey fan completes Billericay to Barry run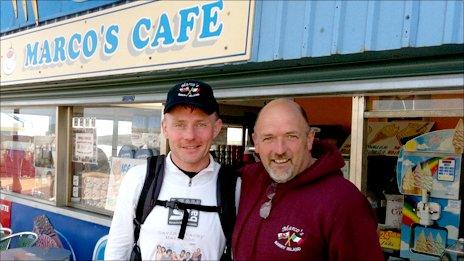 A charity fundraiser has completed a four-day run inspired by the BBC comedy series Gavin and Stacey.
Richard Kell, 40, from Hertfordshire, made the 210-mile (338km) trip from Billericay in Essex to Barry Island in the Vale of Glamorgan.
He stopped at Slough, Swindon and Bristol before reaching his south Wales destination on Monday.
Mr Kell, whose brother-in-law served in Afghanistan, is fund raising for the forces' charity Help for Heroes.
The area sales manager for a high street bank has already completed 26 marathons and hopes to raise £25,000 this year.
A fan of the hit comedy series, he said he was inspired to take on his biggest challenge yet when sitting in a traffic jam on the M4 just before Christmas.
He realised he was between Billericay, the home town of the eponymous Gavin, and Barry Island, where Stacey lives.
He ran four marathons in four days as "a bit of dry run" in February. Last Friday he set off from Billericay with John Baron, MP for Basildon and Billericay, firing the starting pistol.
Mr Kell has visited Barry before, driving the route over Easter and finishing at Barry Island beach.
His funding raising efforts saw him stop by the house in Dinas Powys which doubles as Gavin's home, as well as the red brick Barry house where Stacey lives in the TV series.
On completing his marathon run, he said: "Its been worth it. It's been a really tough challenge but one I will look back on it with a great sense of achievement.
"I'm massively pleased that I managed to do it. The hills were tough in parts."
Mr Kell and his supporters collected money from passers-by as he ran.
Vale of Glamorgan MP Alun Cairns ran with him him for the final six miles in to Barry where they were welcomed by the mayor, Councillor John Clifford.
Mr Cairns said he felt "something of a fraud" joining him just at the end but said it was a pleasure and delight to accompany him to the two properties featured in the show.
He said: "Richard's efforts demonstrate the lasting impact the programme has had on Barry and how it has touched the hearts and minds of people, with a humour that did not knock or undermine the character of the town.
"I hope it shows that the public still has an interest in Gavin and Stacey and that the writers - Ruth Jones and James Corden - and the BBC will think of writing some one-off specials."
Gavin and Stacey followed the romance of Barry girl Stacey, who falls for Essex boy Gavin and was initially broadcast on BBC Three.
Due to its popularity over its three series, it moved to BBC Two and, finally, BBC One.
It featured Mathew Horne as Gavin and Joanna Page as Stacey, and made major stars of writers Ruth Jones and James Corden, who played Nessa and Smithy.
Rob Brydon also starred as Stacey's Uncle Bryn.
Related Internet Links
The BBC is not responsible for the content of external sites.