Good Beach Guide says fewer 'excellent' Welsh beaches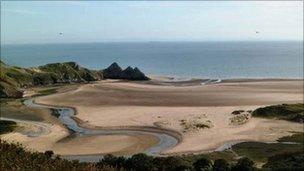 The Marine Conservation Society (MCS) blames budget cuts in testing for fewer beaches in Wales being recommended in its Good Beach Guide.
The 2011 survey said 92 Welsh beaches had excellent bathing water quality but 11 failed to meet minimum EU standards.
The MCS said sampling dropped by a quarter in two years but councils often tested beaches which were not designated under EU directives.
Dwr Cymru Welsh Water said the bathing waters directives was a "key priority".
Environment Agency Wales disputed the MCS's figures, claiming one of the 11 beaches, Aberdyfi, had met the standards once rainfall levels were taken in to account.
The MCS online survey shows that of the 154 beaches sampled in Wales, 11 failed to meet even the minimum standards set under the EU Bathing Water Directive.
A year ago, the MCS tested more beaches - 169 - with 94 being rated as excellent for water quality. In the 2010 survey, 10 beaches failed to make the standard.
The MCS is urging local authorities to ask the Welsh Government to designate all its popular beaches as bathing waters, if they are not already officially recognised.
Unless beaches are officially designated as bathing waters, the MCS said there is no legal requirement for water quality to be monitored or for Dwr Cymru Welsh Water to invest in water quality improvements.
Rachel Wyatt, coastal pollution officer for the MCS, said campaigns for cleaner seas had resulted in a stricter EU directive on bathing water quality which will take effect in 2015.
"Instead of viewing these new standards with dread, Dwr Cymru Welsh Water and our coastal communities should welcome them as an opportunity to attract more people to the principality's wonderful and varied seaside resorts," she said.
"The next few years are critical as the quality of the Wales' bathing waters can play a vital role in the economic recovery of our traditional seaside resorts.
"Making sure their local beaches are ready to comply with the revised Bathing Water Directive is a huge opportunity for local authorities and Chambers of Commerce to attract increasing numbers of tourists to the Welsh coastline."
The MCS said beaches failing to meet the new standards could be required to display a sign warning bathers not to enter the water.
It also called on Environment Agency Wales to work more closely with Dwr Cymru Welsh Water and local authorities to identify sources of pollution and carrying out improvements.
Dilute sewage from combined sewer overflows, designed to act as emergency outlets during periods of heavy rainfall, was highlighted as a particular concern.
Last month the MCS reported that Wales' beaches have a higher density of rubbish than anywhere else in the UK.
Dwr Cymru Welsh Water said it supported the MCS report and had a number of initiatives with councils, Environment Agency Wales and environmental groups to ensure standards on the most popular beaches were maintained.
A spokesperson said: "Earlier this month it was announced that Wales once again has around a third of all the Blue Flags awarded throughout the UK - which is a fantastic achievement and very important for the Welsh tourism industry.
"This, together with the Green Coast and Seaside Awards, means that Wales has some of the best beaches in the UK."
Environment Agency Wales said the MCS did not take into account extreme weather waivers included in the EU Bathing Water Directive, under which Aberdyfi, a bathing water beach, met the required standards.
A spokesman said: "Water quality at designated bathing water beaches are the best they have been for 20 years with all beaches reaching the minimum standard for bathing water.
"In 1990, only 12% of the beaches met the highest standard needed to qualify for a Blue Flag. Last year 89% met this higher standards.
"Seven new beaches have been designated as bathing water beaches this year at Mwnt, Penbryn, Cilborth, New Quay North, Llanrhystud, Aberdaron, Abergele (Pensarn).
"We will now test these and work to improve the bathing water there looking at all sources of pollution that effect the beach."
Related Internet Links
The BBC is not responsible for the content of external sites.