Yvonne Freaney cleared of murder of autistic son, 11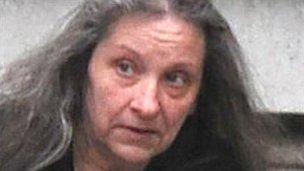 A woman has been cleared of the murder of her severely autistic 11-year-old son.
Yvonne Freaney, 49, of Penarth, Vale of Glamorgan, killed her son Glen at the Sky Plaza hotel in Rhoose, near Cardiff Airport, in May 2010.
She denied murder but admitted his manslaughter on the grounds of diminished responsibility.
Mr Justice Wyn Williams said Freaney would be sentenced on 10 June at Cardiff Crown Court.
After a day of deliberation, a jury of seven men and five women decided Mrs Freaney was suffering under extreme mental stress at the time she strangled her son Glen with a coat belt.
She told police she killed Glen so "no one could point fingers at him" and wanted to end her own life too.
Prosecutors argued that she was a "sad, defeated woman" but was acting sanely when she strangled Glen in an airport hotel room.
Mother-of-four Mrs Freaney denied murder but admitted manslaughter.
John Charles Rees, defending, said: "It was unlawful but she did not kill Glen out of anger."
The court heard she was discovered in the Sky Plaza hotel room near Cardiff Airport with multiple knife wounds - but still alive.
As she was being arrested she told emergency services: "It's funny. He was laughing when I was strangling him. That is when I knew he was happy.
"I had to do it because now no-one can point fingers at him. My only regret is that I couldn't end my own life.
"I killed him. I was frightened about who would look after him."
The court heard Mrs Freaney was facing a lifetime of "one-to-one" caring for Glen. The jury heard how Glen could walk, run and ride a bike and communicated through a computer by tapping on symbols on the screen.
Prosecutor Greg Taylor QC said: "Glen was a young boy who suffered from severe autism - he was diagnosed when he was aged four.
"He was generally fit and well and had a normal life expectancy but he was totally dependent on adult care.
"He needed help, dressing, washing , brushing his teeth and feeding.
"He was not toilet trained even by the age of 11 and still wore nappies."
But Mr Taylor told the court after a "general build up of pressure", Freaney took a room at the Sky Plaza hotel in Rhoose, Cardiff.
Mr Taylor said: "Yvonne Freaney murdered her son Glen in the room using her coat belt.
"When she was sure Glen was dead she lay down on the bed beside him and tried to commit suicide.
"She did this by cutting her wrists, her arms, legs and other parts of her body."
The murder trial heard that Freaney had a "loving and devoted" relationship with her son Glen.
Mr Taylor said: "He was always pleased to see his mother who was a responsible parent who devoted her life to him.
"No-one doubted her devotion to care for him long-term."
Freaney and her husband Mark were both members of the Penarth RAFA club but their marriage was "filled with problems".
The jury was told how former RAF serviceman Mark attacked his wife on numerous occasions.
Police were called several times to the family home after alleged domestic incidents of violence. Mrs Freaney was seen by doctors several times for injuries but never pressed charges against her husband.
The court heard Mr Freaney had said: "I'm a wife beater and proud of it. She deserves it."
The court heard Yvonne Freaney moved out of the family home and had been living in hotels for about a month before Glen was killed.