Plaid Cymru calls for "federalised" BBC funding system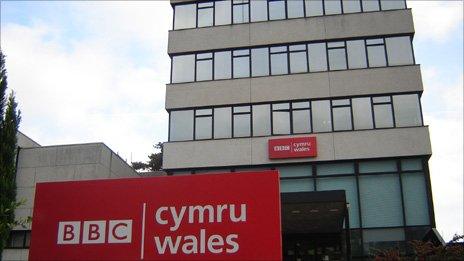 Plaid Cymru AM Bethan Jenkins has criticised proposed BBC Wales savings and called for a new funding system.
She wants a "federal" structure, with money for Wales and the other nations, and network coverage centrally funded.
Earlier, First Minister Carwyn Jones called for talks at Westminster after a leaked document outlined possible ways to meet a BBC-wide 20% savings target.
BBC Wales said no decisions have been made, and any proposals would have to be agreed by the BBC Trust.
The leaked document sets out how news, sport and current affairs in BBC Wales could be affected, and proposes cutting current affairs TV programme Week In Week Out and scaling back coverage of the National Eisteddfod and Royal Welsh Show.
The cost-cutting exercise - called Delivering Quality First (DQF) - stems from a decision last autumn to freeze the BBC licence fee.
Responding to the proposals, Ms Jenkins, AM for South Wales West, said: "It seems to me that the BBC wants it both ways.
"They want to not cover us on network news or on network channels, but then they want to cut what we do have here in Wales."
She called for a federalised structure with a pot of money for England, Wales, Scotland and Northern Ireland, and network coverage paid for from central BBC funds.
"I think we need to have more control over our media here in Wales," she said.
She said she believed in devolved broadcasting "because we have seen how [UK Culture Secretary] Jeremy Hunt has treated S4C with contempt".
Ms Jenkins added: "What I'm worried about is that if things like the National Eisteddfod or our sporting occasions are cut you may see receipts fall on entry, you may see that people won't attend these events in the future and what does that then say for our cultural identity here in Wales?"
She said she was also concerned that proposed cuts could be a "facilitation of merger potentially between S4C and BBC", claiming that "if BBC have to make cuts to things like The Politics Show, potentially S4C and its priorities will fall by the wayside".
On Wednesday, Carwyn Jones said he had written to Mr Hunt.
He said: "We must ensure that the BBC gives the people of Wales the service that they should receive in order to ensure that they know what goes on in their own country."
In an e-mail to staff, BBC Wales director Keith Jones said: "I want to make it absolutely clear that no decisions on future savings have been made at this stage of the DQF process.
He said final decisions were not expected until later this year and final recommendations would need the BBC Trust's approval.
A BBC spokesperson also said: "We have made it clear that local, regional and national services will continue to be at the heart of what we do."
A Department for Culture, Media and Sport spokeswoman said: "The recent BBC licence fee settlement is a great deal for licence fee payers and it gives the BBC the budgetary certainty it needs.
"Decisions about how the licence fee is allocated within the terms of the settlement are taken by the BBC.
"We have been clear that the government is committed to an independent Welsh language TV service and we consider partnership with the BBC to be the best way to give S4C a secure future and deliver a better service to the audience."
Related Internet Links
The BBC is not responsible for the content of external sites.