Carwyn Jones says Wales must grasp 'energy decade'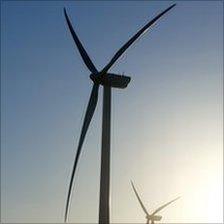 Wales has to move to a green economy as fast as possible, says First Minister Carwyn Jones.
The next 10 years must be "Wales's energy decade", he told a conference.
At the same event, Welsh Secretary Cheryl Gillan said politicians and businesses could not ride roughshod over local people's opinion.
They spoke two days after hundreds of campaigners descended on the Welsh assembly to protest against wind energy plans for mid Wales.
Mr Jones told a renewable energy conference in Cardiff that he had taken personal responsibility for energy policy within the Welsh government.
He said: "We see the next 10 years in Wales as our country's energy decade and we must exploit its full potential. It will be a decade when we press ahead with growth of the renewable and low carbon energy sector."
His administration wants to double the amount of electricity generated from renewable sources by 2025 and to satisfy almost all Wales's energy needs from low-carbon sources by 2050.
"We've got to shift to a resource-efficient, green economy as fast as possible. That move is vital, both to play our part in the global fight against climate change and also to promote greener, sustainable jobs."
In a nod to this week's protest, the first minister also said it was essential people understood "what is happening and why it is happening".
Around 1,500 people objecting to controversial power and wind energy plans for mid Wales protested on the steps of the Senedd on Tuesday.
Dozens of pylons, some measuring 154ft (47m), and a substation are earmarked to connect with about 10 wind farms.
The Welsh government has identified seven areas across mid and south Wales as potential sites for wind farms.
In mid Wales, it could mean a line of 50 metre (164ft) pylons carrying 400,000 volt electricity cables from north Powys to near Shrewsbury, Shropshire.
Mrs Gillan said the UK government was determined to transform Britain permanently into a low-carbon economy, but the protest showed how controversial wind farms were.
Onshore wind power has a role to play, she said, but added: "That does not mean that politicians or developers can ride roughshod over local opinion.
"Rather, they should work with communities to ensure that proposals have local support and are sympathetic to the environment around them."
The Welsh government wants decisions over big renewable energy schemes between 50 and 100 megawatts devolved to Cardiff. But Mrs Gillan said the UK government had no plans to change the current systems.
"We need to ensure that the decisions we make are consistent across England and Wales," she said.