Families 'will never know the truth' of Cooper murders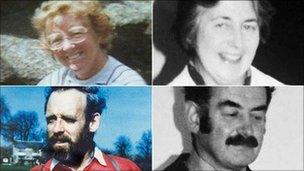 As John Cooper was jailed for life for four murders, his victims' families said they would "probably never know the truth" about what happened.
Labourer Cooper, 66, shot farmer Richard Thomas, 58, and his sister Helen, 54, in Pembrokeshire in December 1985.
He murdered tourists Peter Dixon, 51, and wife Gwenda, 52, in June 1989.
Cooper was also convicted of raping a teenager, assaulting another, and five attempted robberies, in March 1996.
In a statement, the family of millionaire farmer Richard Thomas and his sister Helen said the siblings were "very private people, much loved by their extended family", who had "missed out on their involvement and kindness".
The family described Helen Thomas as a "shy, reserved lady" who was a supporter of Riding for the Disabled and lived with her brother Richard at their mansion at Scoveston Park, Milford Haven.
A member of the Cleddau Grassland Society, Mr Thomas was described as "well known in local farming circles".
The family added they were still "devastated" by the manner of the deaths.
"Over subsequent years, the family's loss has deepened with the burning questions of why it happened still remaining," said the family in a statement.
"It has been a very difficult time, always at the back of our minds, it never leaves you. We will probably never know the truth as a family."
"As a family, we would wish that justice is done for Richard and Helen.
"Memories will remain with us all forever but we hope that we will now be able to remember the happier times more than the very sad ones," they said.
Peter and Gwenda Dixon's daughter Julie Ann Pratley said that though to many people her parents were "just another two faces that happened to be in the wrong place at the wrong time", they were "irreplaceable" and "an integral part of our family".
Her parents would be remembered as a charismatic couple who "had wisdom, humour and were compassionate", she said.
She added that even after two decades "their absence is immense and still painful".
The couple's son Tim Dixon said that while the guilty verdicts "cannot take away our loss and our grief", the family "can have some closure now the person responsible for these terrible atrocities has been served justice".
The families thanked police, adding the victims' families and all the people of Pembrokeshire owed them a debt of gratitude.
"Because of their tenacity, dedication and hard work these communities will be that much safer after today," said Mr Dixon.
Following the verdict at Swansea Crown Court, Det Ch Supt Steve Wilkins described Cooper as "a very dangerous and evil man".
He added that Cooper had murdered four people and subjected five children to a terrible attack "for pitiful gain" and thanked the victims' families for their "remarkable dignity and patience in their long wait for justice".