John Cooper: Killer 'likely used violence again'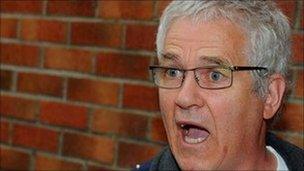 A forensic psychologist believes convicted killer John Cooper is likely to have attacked other people between the two double murders he carried out.
Cooper, 66, from Letterston, Pembrokeshire, is beginning the first day of a whole life sentence for two 1980s double murders.
Police may reopen an inquiry into the death of a woman who lived near him.
Lecturer Dr Mike Berry said the three years between the murders was "a long time" that needed investigating.
After an eight-week trial at Swansea Crown Court, Cooper was convicted on Thursday of the 1985 murder of brother and sister Richard and Helen Thomas, and Oxfordshire couple Peter and Gwenda Dixon in 1989.
He was also convicted of separate charges of rape, sexual assault and attempted robbery.
He was trapped by evidence produced by one of the most complex and detailed forensic science investigations carried out by police.
In addition to the four-year forensic science investigation, detectives also used the expertise of criminal profiler David Canter to build up an image of the killer's psychological make-up.
Dr Berry, a senior lecturer in forensic psychology at Manchester Metropolitan University who has read Prof Canter's work, said the killer was correctly identified as an "angry, isolated" indiviual who probably lived and worked locally.
But Cooper's case went further than most, he said.
Dr Berry told BBC Radio Wales: "To kill two sets of people is very unusual.
"What worries me about this case is whether there were other attempts in between those two sets of murders.
"It's quite a long gap and he's likely to have used violence on other people in the meantime."
Dyfed-Powys Police have said they may reopen an inquiry into the death of Florence Evans, known as Flo, who was friendly with Cooper and his wife, and for whom Cooper would do odd-jobs.
The body of the widow, who was in her 70s, was found fully clothed in the bath of her home in Rosemarket, soon after the killings of Mr and Mrs Dixon.
Dr Berry told Radio Wales that it was sometimes hard to discern a killer's motives, but there was always an explanation for his or her actions.
He said: "There is always a motive for murder. What the problem is is that often we may not be able to work out what the motive may be."
Handing down Cooper his whole-life tariff jail term, Mr Justice John Griffith Williams said Cooper was "a very dangerous man, highly predatory who, but for advances in forensic science, may well have continued to evade capture."