Pub ban for Monmouth AM Nick Ramsay after quiz 'banter'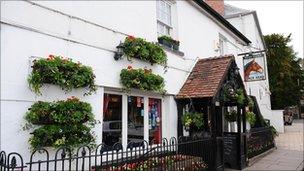 A contender for the leadership of the Welsh Conservatives has apologised after being barred from a pub following a charity pub quiz.
Nick Ramsay's behaviour was criticised by the Tory-supporting landlord of the Nags Head in Usk, Monmouthshire.
Simon Key, who now says he will not renew his party membership, said Mr Ramsay was rude to the quizmaster.
Monmouth AM Mr Ramsay said he had only engaged in "banter" but apologised for any offence he had caused.
He is one of two candidates for the leadership of the party in the Welsh assembly along with Andrew RT Davies.
"My recollection of it was I was part of a pub quiz team and there was banter," said Mr Ramsay.
"I thought the quizmaster's questions were terrible, obviously my team were probably losing at the time!
"I've been a quizmaster myself and people are often rude to me.
"I'm very sorry for it and I certainly didn't mean to give offence, that wasn't the intention."
He said the incident took place a couple of months ago and he was "intrigued that this has arisen now during the leadership campaign".
"I hope the campaign is kept as clean as possible," he added.
Mr Ramsay said that although he had heard he had now been barred from the pub, he had been in there "three or four days" after the quiz without any problems.
Mr Key, a Conservative member "off and on" for 10 years, confirmed to the BBC he had written to his local Conservative Association saying he will not now renew his party membership.
He told the Western Mail: "Nick Ramsay came into the pub on an evening when we were fundraising for Help for Heroes, the charity that helps service veterans.
"He heckled the quizmaster repeatedly, telling him that his questions were rubbish. He challenged the quizmaster, a local antiques dealer, to bid £100 for a rugby jersey in an auction we held on the same evening for the charity.
"He was quite rude and objectionable and his comments didn't go down well - I think he'd had a few beers."
Mr Ramsay agreed he had had a few pints but was only "engaging in the atmosphere" of the quiz.
"I don't think people want politicians to have a glass of water then walk home," he said.
The quizmaster has also been contacted to comment.