'Sewage and oil' on beaches in Wales is algae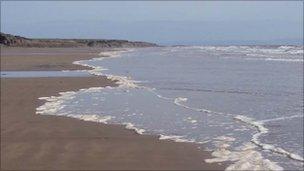 Algae is responsible for reports of raw sewage and oil affecting beaches across Wales, says Environment Agency Wales.
The algae has been reported in the south between Porthcawl and Aberavon and as far west as Tenby in Pembrokeshire.
The white froth, and brown lumpy material has been seen near Aberdyfi, the Mawddach estuary and the Menai Strait in north Wales.
The algae is not dangerous but could cause mild skin irritation.
It should not be swallowed and the agency said contact should be avoided with the algae, which is of the species chaetoceros and phaeocystis.
It is created by a combination of the recent warm weather, coupled with nutrients in the water.
With more warm weather forecast over the summer the agency said it expected further outbreaks along the coast.
A spokesman said: "While the algae is not known to be toxic to people, it is not very pleasant to look at.
"We are getting an increasing number of calls from people who are concerned as it does look like pollution."
He added: "We can assure them it is a natural phenomenon, but we are glad that people are taking such an active interest in their environment and reporting problems to us."
Water quality at bathing water beaches is better than ever "and we want to make clear that these slicks are not pollution", he said.
Any slicks which may not be algae can be reported to Environment Agency Wales' free 24-hour line 0800 807060.
Related Internet Links
The BBC is not responsible for the content of external sites.