Cardiff homecoming for Songs of Praise's 50th birthday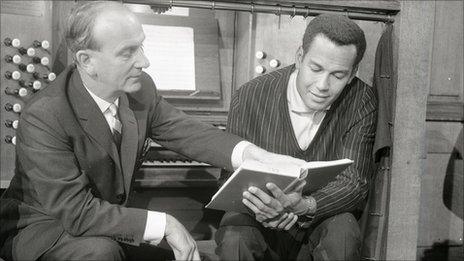 Songs Of Praise is going back to a chapel in Cardiff, the scene of the first programme - and is looking to invite back surviving members of that congregation 50 years ago.
The first edition from the Tabernacle Welsh Baptist (Tabernacl, Capel y Bedyddwyr) on The Hayes in the city centre, was broadcast on 1 October 1961.
To celebrate a half-century on the air, the BBC's best known religious programme is keen to track down anyone who may have been part of that very first recording.
However, with the average age of church-goers in the UK being 45, the BBC North production team are targeting their search - particularly at the children's choir who sang All Things Bright And Beautiful and Gentle Jesus, Meek and Mild in 1961.
The anniversary edition will be recorded on 25 June, and is to be conducted by Tim Rhys-Evans, musical director of Only Men Aloud.
Series producer, Garry Boon, said: "As someone who's worked on the programme for more than 20 years, this is one of the most exciting editions to be working on.
"However, Songs of Praise is very much a people's programme, and this is no exception. We rely on people who are willing to give their time and voices to sing the hymns and to share the stories that our viewers find so inspiring.
"I do hope that anyone who was connected with that first edition will get in touch, and that there are lots of enthusiastic singers who'll want to be part of this 50th anniversary programme."
Wales has another association with the start of Songs of Praise - the programme, which inspired it.
Its forerunner was Dechrau Canu, Dechrau Canmol, the Welsh language church music programme. Its first edition from Trinity Chapel, Swansea was shown on BBC TV at the start of 1961 - and like Songs of Praise, the series is still going and a long established part of S4C's schedules.
Cardiff-born BBC producer Donald Baverstock was reportedly entranced by the combination of chapel architecture and close-ups of the faces of hymn singers.
He suggested a series in English to bosses and, despite initial misgivings from the head of religious broadcasting about the concept, Song of Praise's first edition was recorded in his home city, a few days before its broadcast.
Sadly, it appears no copies of the first recording survive, but the programme hopes to at least relive memories from those who were there.
The return to Cardiff marks the latest chapter in a long-running association with the Welsh capital.
As well as hosting the very first programme, Cardiff's Millennium Stadium was the location for Songs of Praise's largest ever episode.
The special edition saw 60,000 worshippers, a 6,000 piece choir, an orchestra of 100 harps, the band of the Welsh Guards and an anthem specially written by Lord Andrew Lloyd Webber mark the first Sunday of the new millennium.
But fans of the show who can't quite trace their loyalty back half a century shouldn't fear, as free tickets will be available on a first-come-first-served basis to anyone who'd like to take part in the congregation.