Hay Festival: Rob Lowe on raising hell and finance
By Catherine Evans
BBC Wales News website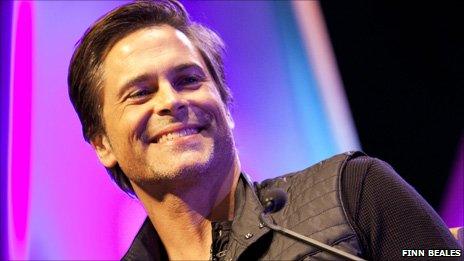 Actor Rob Lowe may be a Hollywood legend, but he showed his down-to-earth attitude as the celebrity highlight of the Hay Festival.
The star of hit series West Wing and Brothers and Sisters entertained a sold-out audience with tales of his hellraising past as a member of the so-called Brat Pack.
He also spoke of his struggles with alcohol and time in rehab.
But his sober life now included a fish and chips lunch outside Hay.
Lowe, promoting his memoirs, Stories I Only Tell My Friends, was asked about his childhood, and spoke of his mother having had mental health issues.
"She had her health issues, struggled with depression," he said.
"But she gave me a tremendous gift that I try to give to my boys today - that life is for the taking. I'm indebted to her for that.
"And she gave me a love of language."
Describing himself as "a nerd", Lowe admitted he had enjoyed playing the part of the "cool kid".
But he added his decision to become an actor at the age of eight was "an epiphany".
"I had a dream for what I wanted to be," he said.
"My parents took me to a theatre production of Oliver! I knew then that's what I was going to devote my life to."
During the interview, Lowe did not shy away from discussing his well-publicised scandals, including his infamous sex tape and alcoholism.
A video had emerged of him having sex with a girl, 16 and under-age, while attending a Democratic National Convention in 1988, which hit his film career.
"Everybody who has ever struggled with addiction or alcoholism has that moment where you think 'I've got to stop doing this'," he said.
"My mother was on the answering machine saying 'pick up the phone, your grandfather's had a heart attack'.
"I was there not picking up... I thought 'I'm going to finish all this tequila'.
"I looked at myself in the mirror and knew it was over."
Lowe then spent a month at a rehabilitation centre.
"I had been carrying a card in my wallet for a year of an alcohol counsellor. I made the call and they shifted me off to rehab," he said.
"I loved it because it gave me the tools to live the life I wanted to live."
Lowe, 47, whose films included St Elmo's Fire, Masquerade and Bad Influence, found a new generation of fans as White House communications man Sam Seaborn in TV's West Wing and the series Brothers and Sisters.
Asked by a fan if he had considered a career in politics like Seaborn, or become governor of California like Arnold Schwarzenegger, Lowe said he didn't know if he would become a politician, but has "an interest in service".
"I don't know if it would ever be in politics in some way," he said.
"But at some point in my life I would like to serve."
Lowe said his new focus was as a businessman, after buying Miramax film studios.
He had started up his own film finance company and purchased Miramax but will continue to act.
"My career as a businessman is my new focus now," he said.
And in a mix of the star and the down-to-earth guy, Lowe left Hay to watch the football - flying to London to support Manchester United in Wembley's Champions League Final.