Bus parade celebration for Swansea City fans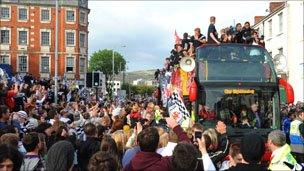 Swansea City fans have welcomed home their promotion-winning heroes with an open-top bus parade.
The Swans beat Reading 4-2 in the Championship play off final at Wembley to win a place in the Premier League.
Thousands of fans attended the event, which started from Swansea's former ground, the Vetch Field, at 1830 BST.
The players will also join Rod Stewart on stage at his concert at the Liberty Stadium on Wednesday evening.
Swansea council leader Chris Holley said promotion would be a boost to the whole of the city and surrounding area.
"I really don't think the magnitude has hit home yet," he added.
"The city has now come out of the shadows of a lot of other places and said 'yes we are here and we have done it our own way'."
Historian and Swans' fan Peter Stead told BBC Radio Wales promotion would benefit the wider region.
"Swansea will now go on to a world stage courtesy of television and the national press.
"We want quality in Wales and I think the Swans have led the way."
Swansea beat Reading in a thrilling match with a hat-trick from Scott Sinclair and a goal from Stephen Dobbie.
It is only eight years since they beat Hull City on the final day of the 2002/03 season to prevent a drop into non-league football.
But now supporters can look forward to their team taking on the likes of Manchester United, Liverpool, Arsenal and Chelsea.
Promotion will net the club up to £90m as they become the first Welsh club to play in the Premier League.
Sport business consultant David Dick told BBC Radio Wales: "For Swansea in particular it's a massive inflow of cash.
"The minimum payments in the Premier League just in relation to the media rights is £50m.
"If you put that in the context of Swansea's total turnover being about £10m you can see just on that alone it's five times (that).
"Even if they go down they then get parachute payments over a four-year period totalling £48m."
Steve Pearson from the Swansea City Supporters Trust said he hoped the club would continue to live within its means.
"Certainly there are some mouth-watering sums of money being talked about but I for one hope that the club will think long and hard about how to invest this money.
"The longer term of the club can be secured with this promotion."
The achievement has been hailed by both First Minister Carwyn Jones and Welsh Secretary Cheryl Gillan as a boost not only for Swansea but also for Wales.
Related Internet Links
The BBC is not responsible for the content of external sites.