Hay Festival: Duchess of Cornwall promotes literacy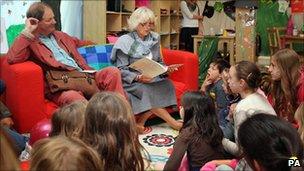 The Duchess of Cornwall has demonstrated her concern to promote child and adult literacy during a visit to the Hay Festival in Powys.
The duchess flew in to the book festival by helicopter to read to children.
Afterwards, her spokesman said she has had a long interest in books and reading which stemmed from being read to as a child.
"She read to her children and it's been life-long passion," he said.
The duchess read an except from Dog Love Books by Louise Yates, a 2010 Roald Dahl Funny Prize winner and a New York Times bestseller.
Afterwards, children's author Michael Morpurgo read an extract from one of his books.
The duchess then met children, including some taking cookery lessons.
A spokesman for the duchess said one of the main reasons why she was at the festival was to promote reading and literacy among children and adults.
He said: "It's one of her key areas of interest - literacy for children and adults. The duchess has had a long interest in books and reading which stems from being read to as a child."
The spokesman added that duchess was patron of two organisation related to literacy - the Wicked Young Writers Award and the National Literacy Trust.
He went on to say the duchess regularly visits schools and libraries and encourages reading and reading aloud.
After the book-reading session, the duchess called at a stall where children were being taught how to make strawberry shortcake biscuits.
The duchess remarked that strawberries were early this year and said "aren't we lucky".
She also visited a drapers stall from Staunton-on-Wye, Herefordshire.
Owner Carolyn Denham said she spoke to the duchess about sewing and how it was coming back into fashion.
"[I said] when we were feminists we were not allowed to make pickles and jam but now we can, " she explained.
"And that is just like sewing. It's not a girlie thing to do anymore."
"She agreed and laughed and said she wished she had more time to sew."
Related Internet Links
The BBC is not responsible for the content of external sites.