Nine historic Welsh buildings at risk, says group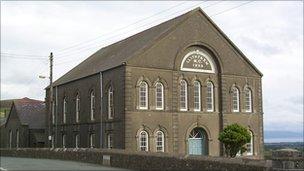 A derelict Italianate villa, an old hospital, a steelworks and chapels are among a list of buildings in Wales considered to be in danger, according to a conservation group.
Nine Welsh buildings are included in Save Britain's Heritage's annual catalogue of buildings at risk.
The catalogue, called Take a Chance on Me, is published on Wednesday.
The list highlights the number of "delightful and unusual historic buildings in need of rescue and reuse".
Among the entries for 2011 are the Mid Wales Hospital in Talgarth, a former mental asylum set within the Brecon Beacons National Park. It has been empty and decaying for 10 years.
The building was sold in October to a developer, who is currently drafting a development brief.
The "at risk" buildings list states that over the years, the hospital has become "a playground for vandals".
Known locally as Capel Isaf, Calvinistic Methodist stone chapel in Llithfaen, Gwynedd, was the fifth to be built in the village for the expanding community, designed to seat up to 700 people.
Built in 1905 to the designs of Owen Morris Roberts of Porthmadog, the chapel has round arched windows and a central panelled door.
"This remarkable chapel is suffering from a lack of maintenance and there are reported problems with the roof and damp penetration," said Save Britain's Heritage officer Rhiannon Tracy.
"This chapel calls for a scheme which will respect its historic integrity and unique character."
The mid-19th Century ruined country house Plas Gwynfryn in Llanystumdwy has an uncertain future.
The council is trying to trace the owner, but so far without success.
Grade II listed Plas Gwynfryn was the home of Conservative MP Ellis Nanney, then became a wartime hospital, an orphanage and a hotel.
After being gutted by fire in 1982, no repair work was done on the building but is "not beyond repair" according to Save Britain's Heritage.
Deeside's John Summers Steelworks, now known as Shotton Steelworks, sits in a prominent location on the north bank of the River Dee in Flintshire.
Built in 1907 for John Summers and Sons of Stalybridge, Manchester, by architect James France, the Grade II listed building has an art nouveau interior including a flying imperial staircase.
The site is currently to let or for sale as offices and business units.
'Wonderful restoration project'
Kidwelly Town Hall, a prominent local landmark, is currently disused. It was designed by the town mayor TW Evans who had also trained as an architect. Works were complete by 1888 and Evans took no payment for the commission.
Island House in Laugharne "has the potential to be a wonderful home," according to the catalogue.
The building, which dates from the 16th and 17th centuries, has been empty and decaying for the last five years, but the council is in discussions with the owner and is considering taking action to enforce essential repairs.
Boiler House in Trawsfynydd is a "charming" terraced cottage, currently up for sale.
"This little building has enormous potential and could make a wonderful restoration project," said Ms Tracy.
Newport council plans to serve a compulsory purchase order on the owners of 11 Kensington Grove in Newport, a derelict Italianate villa set in just under an acre of land.
The list also includes Grade II-listed Wesleyan Chapel in Haverfordwest, which preacher John Wesley visited in 1763 and called the "neatest chapel in Wales".
The chapel closed in 1985 and was then used as an antiques shop.
Related Internet Links
The BBC is not responsible for the content of external sites.