Hay Festival: Prime Cuts and laughs with Maureen Lipman
By Carl Yapp
BBC Wales News website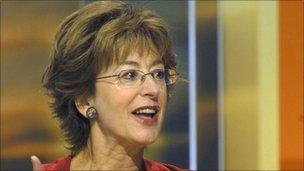 It must be fun being Maureen Lipman.
From strange conversations and hilarious cab drivers to the eccentricities of British life, the actress and comedian had a packed audience at the Hay Festival in stitches about her day-to-day experiences.
She was at the literary event promoting her collection of 21 monologues called Prime Cuts From a Long Shelf Life.
She combined extracts from her book with the odd risqué joke, and fond and amusing memories of her late mother Zelma and her late husband, the playwright Jack Rosenthal.
Lipman has enjoyed a varied career which has included everything from Oklahoma! at the National Theatre to an appearance as a Doctor Who baddie.
She made her debut film appearance in 1968 in the classic drama Up the Junction, and starred in the Oscar-winning film The Pianist in 2002.
"Having a face people know is always going to lead to strange conversations," she said.
"Jack used to stay 'what is it with you? If I go out for a bag of sugar I come back with a bag of sugar. You go out for a bag of sugar and come back with a three-act play'."
Recounting one strange conversation, Lipman told of an evening she had at the Ritz Hotel in London.
She spotted an eccentric elderly couple, the woman wearing a tiara, and her husband "a 6ft 4in tall man with magenta-coloured hair, wearing riding boots".
"I turned to face a group of people and said 'if you had not seen it with your own eyes, you wouldn't have believed it'," she said.
"A man replied by saying 'I'm glad you spoke to us, Miss Lipman. Your father made my father's demob suit'."
Lipman's father, we were told, had owned a men's outfitters.
Turning her attention to television, Lipman explained that "there was nothing on TV for a Radio 4 listener".
She said she could not relate to reality programmes and talent shows.
"When I'm not working, I sometimes watch TV and end up going through 200 channels and end up with The Dog Whisperer [a TV programme]," she said.
She confessed she had been offered roles in celebrity talent shows. One came from the makers of a programme called Celebrity Midwife, which involved training in delivering a baby and then performing the task for real.
Related Internet Links
The BBC is not responsible for the content of external sites.