Big crowds greet triumphant Swansea City on bus parade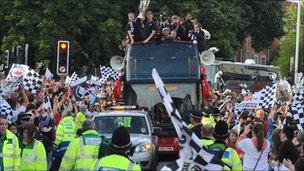 Thousands of Swansea fans lined the city's streets to welcome home their promotion-winning heroes.
The Swans became the first Welsh club to reach the Premier League after beating Reading 4-2 in Monday's Championship play-off final at Wembley.
An open-top bus parade took place from the club's former home the Vetch Field and ended at the Guildhall.
"Everyone on the bus would like to say a massive thank-you to the supporters," manager Brendan Rodgers told the crowd.
"When the game was at 3-2, I've seen other teams in that position where supporters would boo their team.
"But we have supporters that love this city and will love seeing us in the Premier League next year."
Swansea beat Reading in a thrilling match with a hat-trick from Scott Sinclair and a goal from Stephen Dobbie.
It is only eight years since they beat Hull City on the final day of the 2002/03 season to prevent a drop into non-league football.
But now supporters can look forward to their team taking on the likes of Manchester United, Liverpool, Arsenal and Chelsea.
Promotion will net the club up to £90m as they become the first Welsh club to play in the Premier League.
A number of fans decided to start the parade early by turning up at the Village hotel, where the team were picked up from.
But the majority packed out the tour route which went from Glamorgan Street by the Swans' former home, up to the Kingsway and down St Helens Road.
Black and white flags were waving as the bus passed by with horns blowing and crowds cheering on their heroes.
"I was here in 1981 and there were similar scenes," said Patrick Davidson, 64, from Swansea.
Outside one of the pubs, a group of supporters set up camp with a drum - which can often be heard at the Liberty Stadium - keeping the spirits high.
"The game and today were absolutely phenomenal," said Michelle Parsons, from Hafod.
"This is something I will never experience again."
Some fans also came with alternative messages, with David John making a banner urging Rodgers to keep hold of striker Fabio Borini.
"I made it this afternoon," he said. "Fabio is out of contract at Chelsea and we don't want him to go."
One supporter though did not get to see the parade even though she turned up to watch.
"My dog was getting too much attention," said 39-year Claire Tooze who dressed pet Yogi Bear in a Swans shirt.
"I saw the the game though and it was the best weekend I've ever had."
Swansea's players went on to enjoy a reception at the Guildhall, and on Wednesday evening will join Rod Stewart on stage at his concert at the Liberty Stadium.
Related Internet Links
The BBC is not responsible for the content of external sites.