Welsh police campaign against summer drink-drivers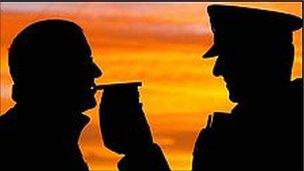 Police say there is "absolutely no excuse" for driving after drinking or taking drugs.
The message from all four Welsh police forces as they begin their summer anti-drink and drug driving campaign is "think before you drink".
The campaign, which is launched on the Maes in Caernarfon later, aims to crack down on drivers who officers say risk lives by driving under the influence.
Anyone caught faces a driving ban, jail or a fine of up to £5000.
During the 2010 campaign, 25,714 people in Wales were stopped and breath tested by police, 513 tested positive, refused or failed a breath test.
'Devastating consequences'
South Wales Police Assistant Chief Constable Nick Croft said: "There is absolutely no excuse for drinking and driving and the consequences can be devastating.
"You not only risk killing or seriously injuring yourself or someone else, but you will end up in court and receive at least a one year driving ban, you could lose your licence, face jail or a fine of up to £5000."
He added that anyone caught drink driving would not only ruin their own life, but also "the lives of others innocently associated with you and your actions."
Throughout the month-long campaign officers across Wales will be conducting increased stop checks.
North Wales Police' Assistant Chief Constable Gareth Pritchard advised people attending summer barbecues or nights out in beer gardens to "think about how you are going to get home. Book a taxi, arrange a lift with a designated driver or simply just don't drink".
"Officers from across Wales will be out there with a determination to arrest those people who choose to drink or take drugs and drive," he said.
Related Internet Links
The BBC is not responsible for the content of external sites.