Convert Welsh farmland 'to help attract urban visitors'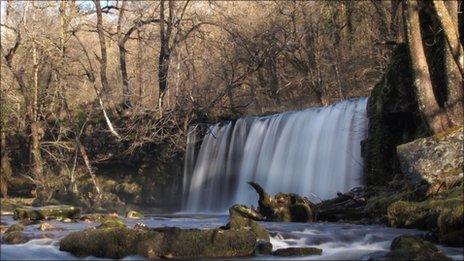 One-fifth of Welsh farmland could be converted for mixed use as farmland and woodland, a report has suggested.
Prof Ian Bateman said the plan, designed to benefit farmers willing to switch, would give easier access to the country for people in towns and cities.
But the farming union NFU Cymru criticised the idea as "nonsense" and "short-sighted".
The suggestions are included in new UK government-backed research into the potential of rural areas.
The UK National Ecosystem Assessment (NEA) report, to be published by Defra on Thursday, is based on the work of hundreds of UK scientists.
It says that nature is worth billions to the UK economy.
The report includes pre-published proposals by Prof Bateman, who specialises in environmental economics at the University of East Anglia.
The writers suggest that urban areas, including those around Cardiff, Merseyside and Greater Manchester, could benefit from some farmland in Wales becoming mixed with recreational woodland.
They said the change, for which farmers would be subsidised, would help to ease health problems such as obesity and boost income from tourism.
Prof Bateman told BBC Wales: "About a fifth of Welsh farmland could meaningfully go into a more mixed approach towards using land.
"There are areas where you could get higher value from farmland and woodland, improving access for people, rather than keeping people off the land."
The professor said at the moment some forestry in Wales was "in exactly the wrong place".
"Forests in the Cambrian Mountains are taking out peat and contributing to global warming," he said. "There are places, particularly around major cities, where from a social perspective you would generate more money."
He defended Welsh farmers' right to use land to raise stock and produce top quality produce, saying: "I am not advocating booting farmers off the land to replace them with forestry."
He also said the proposals would not take land irretrievably out of agriculture as this would ignore any future problems with food scarcity.
"It's fine to change some of the land to benefit people within the short term," he said.
However Ed Bailey, president of NFU Cymru, countered: "The expectation that more money is going to be made (by farmers) from woodland than from stock is nonsense."
He labelled the proposals "short-sighted" saying farmers could not be expected to turn farmland into woodland overnight.
"I have no problem at all with people enjoying the scenery but why does it have to be woodland? We need to produce food. When you have worked hard to establish a brand like Welsh lamb and beef you have to protect it."
The report is part-funded by the Welsh Government, which said its publication would help it deliver policies to protect Wales' natural environment.
"Our environment is central to our quality of life, as well as playing a vital role in our economy," said a spokesman.
"It is very simplistic to pick one element of the report and suggest that it means one use of land is better than another."
Related Internet Links
The BBC is not responsible for the content of external sites.