Welsh Water completes work after Twitter rumour cuts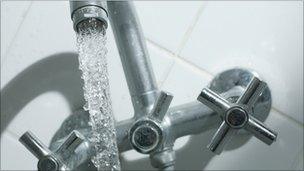 Water supplies are returning to normal after work on a reservoir near Merthyr Tydfil.
Welsh Water moved to assure customers across south Wales on Wednesday after speculation on Twitter that supplies would be cut off.
The company said customers might experience "short interruptions" and "possible discoloration" as the water network returned to normal on Thursday.
The system upgrade affected 150,000 customers in and around Merthyr.
Welsh Water said on Wednesday that customers in the Rhondda Cynon Taf, Rhymney and Caerphilly areas should not notice any difference to their service, but they were advised to fill containers with tap water just in case.
A statement from the company on Thursday said: "The planned work at Pontsticill Reservoir has now been completed and we are in the process of returning our water network to normal operation."
It said if there was discoloration customers were advised to run the tap until the water cleared.
Customers were also advised to avoid washing clothes until the water was running clear.