Mullanys' honeymoon murder resort gate 'not padlocked'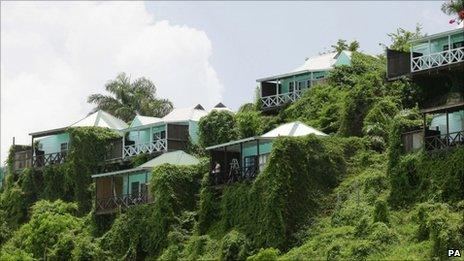 A security guard has told a court the gate to a Caribbean resort was not padlocked when a honeymoon couple from Wales were murdered.
Brinsley Barrie said the gate to the Cocos Hotel on Antigua could be opened with a simple "hard push."
Ben and Catherine Mullany, both 31, from Pontardawe, Swansea Valley, died after being shot in July 2008.
Avie Howell, 20, and Kaniel Martin, 23, deny killing the couple and local shopkeeper, Woneta Anderson, 43.
Mr Barrie told Antigua's High Court he was on duty when the newlyweds were attacked on the final day of their honeymoon.
He said it was his job to close the gate at night but it did not lock properly.
The guard said there had been no padlock on the wooden gate that day - just a bolt and a "piece of iron."
Mr Barrie agreed a guest locked out late at night could "easily" have entered the resort, and when asked if someone could have climbed over the barrier, he replied "most probably".
He said he had been on guard with colleagues Ian Newell and Tony Martin on the night of 26 July 2008.
The court heard how Mr Barrie had been stationed in the reception area when Mr Martin appeared at the front desk "frightened" and "stammering".
He made his way up the hill to cottage 15 where he came across the murder scene, jurors heard.
Mr Mullany, a student physiotherapist, was "crouching over the bed" but not moving and there was blood on the back of his head.
Mrs Mullany was lying on the floor, face up.
Mr Barrie said: "There was blood on her face, she was not moving. She appeared to be dead."
He said he went back to reception to call the police.
Mrs Mullany, a doctor, died instantly while her husband, a former South Yorkshire police officer who had also served in the British Army, was transported back to Britain for treatment.
He was pronounced dead a week later at Morriston Hospital, Swansea.