New campaign highlights quarry danger in Wales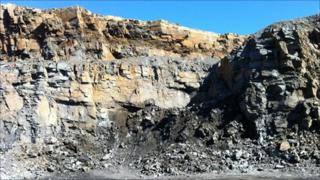 A campaign has been launched to stop people trespassing in quarries in Wales.
The Mineral Products Association (MPA) is alerting people, and particularly the young, of the dangers.
There are 24 quarries in south Wales alone producing more than 4.5m tonnes of aggregates each year.
MPA said teenagers caused the industry most concern and the campaign was particularly focused on helping young people understand the risks.
The association said the dangers associated with quarries included ice-cold water, steep cliffs, falling rocks and quicksand pools.
Its Stay Safe campaign also criticises "irresponsible adults".
"Adults who enter quarries whilst walking, dog walking or out of general curiosity may not appreciate that they are not simply putting themselves at risk," said Elizabeth Clements of the MPA.
"They are also setting a bad example to younger people and leaving holes in fences which put them at serious risk."
During the last two years, six teenage boys have lost their lives in the UK in active or disused quarries, said MPA.