Rhyl Ocean Plaza seafront development 'on hold'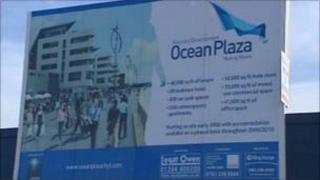 An £85m seafront development in Rhyl in Denbighshire is on hold because of the difficult economic climate.
The resort's funfair was demolished in 2007 to make way for the Ocean Plaza complex, which was to consist of luxury apartments, a hotel and a supermarket.
The plot was bought by Scarborough Development Group (SDG) in January last year after the original developers went into administration.
SDG said the delay did not mean the plan had been shelved.
Managing director Mark Jackson said: "It's a tough time to develop anything and we're just trying to make the commercial part of it work.
"It doesn't stack up as it was originally planned."
"We are rejigging it, trying to make it go forward," he added.
Mr Jackson indicated the apartments may be removed from the plan because of the poor resale possibilities, but he was confident the supermarket deal would be sorted out.
In the original scheme, an Asda store, employing up to 470 people, was proposed but he would not go into detail about current discussions due to commercial confidentiality.
Mr Jackson said SDG, which has so far invested about £9m in the project, would not walk away, but added that he understood the frustrations of people waiting for something to happen.
"This is the nature of recessions, but we are still plotting, planning and scheming," he said.
Meanwhile, contractors for the first phase of sea defence work, starting at the west end of the seafront, will use part of the Ocean Plaza site as a works compound.
Work is due to start later this month and is expected to last into early next year.
SDG said the work had no bearing on the progression of its plans and, as the site was so large, it was able to come to an arrangement with the contractors.