Cerys Matthews has no regrets about I'm a Celebrity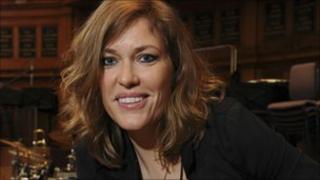 Singer Cerys Matthews says she has no regrets about appearing on reality TV.
The former Catatonia singer, who grew up in Swansea, told BBC Radio 4's Woman's Hour she agreed to take part in I'm A Celebrity...Get Me Out of Here! in 2007 because she had always been "quite nosy".
"I thought I would do it and see what it's like to be inside a reality TV programme," she said.
"One has only one life on this earth and I want to damn well fill it."
But the BBC 6 Music presenter refused to talk about her much-publicised former relationship with ex-Eastender actor Marc Bannerman.
The pair found themselves on the tabloid front pages after finding romance in the jungle during the show, but split four months later.
"I don't like to look back and study things too much," she said.
Although Matthews was born in Cardiff, her family moved around frequently, settling in Swansea before moving to the Fishguard area of west Wales.
Exploring
The 42-year-old mother-of-three, who released her new album
Explorer in May, revealed she developed her love of travelling when she was a teenager.
Leaving school with A-levels in biology and textiles, Cerys spent time studying psychiatric nursing and working as a nanny in Spain before returning to Fishguard.
"I've spent the whole of my adult life exploring," said Matthews, who met her ex-husband American music producer Seth Riddle in 2002 while she was living in Nashville, Tennassee.
"I left home at 18 with a huge rucksack and went off to Spain.
"I left as soon as I could and it hasn't stopped since then."
Explorer is Matthews's sixth solo album since Catatonia split in 2001.
Matthews and her former band rose to fame with hit singles Mulder and Scully and Road Rage, followed by albums International Velvet, Equally Cursed And Blessed and Paper Scissors Stone.
Following the split, she became a successful solo artist, recording albums in both English and Welsh.
Cockahoop was released in 2003, Never Said Goodbye in 2006, Awyren=Aeroplane in 2007, Don't Look Down in 2009 and Tir in 2010.
The musician and DJ added that she wants her children, Glenys Pearl y Felin, seven, Johnny Tupelo Jones, five, and one-year-old son Red with manager and partner Steve Abbott, to embrace their Welsh heritage.
Matthews returned to Pembrokeshire after divorcing Riddle, the father of her two eldest children, after five years in Tennessee. She now lives in London.
"It's important to have an interest in where you're from, where your roots are," she said.
"My children go to the Welsh school so they're familiar with the Welsh language. They are half-American so they go there very often."