Network Rail's sat-nav safer level crossing hope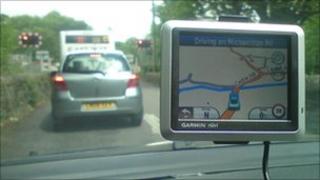 It is hoped a new sat-nav application will improve safety at Wales' 1,287 level crossings.
Since January there have been 240 level crossing incidents where people have risked their lives, including trains narrowly missing cars.
A free downloadable application, launched on Thursday, has been developed to alert vehicles with a train whistle as they approach.
Network Rail said it would encourage safer driving.
It works by emitting a loud train whistle as a driver approaches a crossing.
Liz Heading, Network Rail community safety manager, said: "I think it's going to be a really useful tool. People often use sat-navs when they're in an area they haven't been before.
"They may be in an area where they don't know there's a level crossing and it will alert them.
"It's another thing to help people be aware of level crossings and use them correctly and safely."
Crossing misuse
All level crossings in Wales have been included in the application, including around 600 road crossings.
Ch Supt Eamonn Carroll, of British Transport Police, said officers were committed to working with Network Rail to improve safety and change driver behaviour.
"This innovative sat-nav technology will be a useful additional tool in helping reduce level crossing misuse across the country."
It has been developed by Network Rail with technology company Garmin, so can only currently be downloaded onto Garmin nuvi or nuLink sat-navs.
In future, it may be developed to work with other sat-nav providers and offer additional information.
"The next step would be looking at whether it could provide an alternative route for people when planning their journey to avoid level crossings," added Network Rail spokesperson Mavis Choong.
Network Rail said motorists in Wales regularly put their lives and others at risk at level crossings.
Incidents include jumping the warning lights, swerving around barriers and failing to contact signallers to check it is safe to use unpoliced crossings.
Earlier this year in mid Wales, a car narrowly missed an oncoming train after a driver allegedly failed to contact a signaller.