University of Wales opens office in Silicon Valley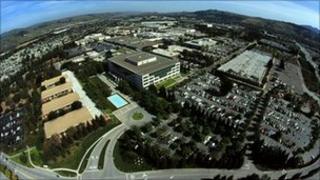 The University of Wales has opened an office in Silicon Valley in California in a move it hopes will boost innovative Welsh companies.
It is based in the Irish Innovation Centre in San Jose which offers resources to technology companies making the move across the Atlantic.
The university will provide office space for Welsh firms.
Wales' first billionaire Sir Terry Matthews has backed the move.
"It will be an office for Wales, for Welsh business and for high-technology firms that want to have a presence in Silicon Valley," said Professor Dylan Jones-Evans, director of enterprise and innovation at the University of Wales.
Innovation ecosystem
"Our aim is for Wales to have a foothold in the area through working closely with the Irish Innovation Centre to help a few companies to come over there and see how it works.
"If we are successful, then there may be the possibility of replicating the concept for Welsh companies."
He added: "It is absolutely critical to have contacts within Silicon Valley because many companies won't have experience of the environment which makes up this innovation hot spot or, more importantly, the networks that you need to access to get anywhere in such an innovation ecosystem."
Newport-born Sir Terry Matthews, who became a billionaire through hiswork in the telecomes industry, said: "San Jose and the remainder of Silicon Valley continue as a major concentration of high technology companies and venture capitalists.
"The new Welsh innovation office will be a significant benefit to any new company looking to enter the market for sales opportunities or access to sources of capital."