77,000 in Wales claim benefits for more than a decade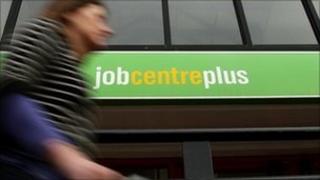 New UK Government figures show more than 77,000 people in Wales have been claiming out-of-work benefits for 10 years or more.
The data was revealed with the launch of a programme that will tighten sanctions for people who refuse work.
Providers will try to find work for claimants although a research group believes this could deepen inequality in some areas.
One MP warned the scheme won't work in areas like Merthyr with less jobs.
Two of those private providers with contracts in Wales will attempt to help the long-term unemployed people into work and keep them there.
Rhyl in Denbighshire has one of the worst rates of employment in the country with one ward where half of the adults are on out-of-work benefits.
Local MP Mr Ruane told BBC Radio Wales: "It's a slippery slope.
"These private providers will be judged by results so they will concentrate on areas where there are jobs and other places will not be targets for them.
"There will be cherry-picking, it depends on how contracts are drawn up.
"In my constituency 50% of people (13,000) work in the public sector and the prime minister wants to cut their jobs by between 10 and 25%.
'Undeserving poor'
"They are people with skills and they will push out people without skills, those who are illiterate and have drug or alcohol problems will go further down the ladder.
"It comes down to this new terminology - the deserving poor and the undeserving poor."
Marcella Maxwell is director of Working Links Wales, one of the organisations that has won a contract in Wales.
She said the provider had already done a great deal of work in areas such as Merthyr Tydfil and Blaenau Gwent where there was a high level of joblessness.
She denied that Working Links would only concentrate on areas where it could get good results.
"We know it's a challenge but we have been working in Merthyr and Blaenau Gwent for 10 years and we know there are long-term issues but we have had a success rate with the people there," she said.
"We can't ringfence areas and say they are no-go areas but also we have travel-to-work schemes to encourage people to go to other parts of the valleys or Cardiff or Newport for work.
"People who have been claiming benefits for a long time will get an action plan to focus on the jobs that are out there rather than ones that we know are not.
"If there are no jobs out there we will work to reskill them for jobs that are."
Ministers said that under the Work Programme, providers would be free to design support, based on the needs of jobseekers and local labour markets.
Employment minister Chris Grayling told BBC Wales providers would only be given extra funding if they were successful not just in getting people jobs, but in ensuring they stayed in them for a long time.
He said: "The hard-to-help groups will get more funding than conventional job seekers.
"There are still 500,000 vacancies in the economy and there are vacancies in Wales.
"We have to ensure we provide support to the long-term unemployed who get left behind when there are opportunities so they get the chance to get into the workplace."
The Work Foundation research group has warned the programme would do little to improve job prospects for people living in economically weaker areas of the UK.
Neil Lee, the group's senior economist, said: "As the Work Programme is based on payment by results, contractors carry the initial risk.
"There is therefore the danger that private contractors will focus on investing in places where they are more likely to get people into work to secure a return on investment."